Send a Queer Qare Package
Submitted by Room on Fri, 01/21/2022 - 5:17pm
Bookish Wonders! Welcome!
We got asked by a regular to curate a care package for a young person in their life who had just come out as Trans. We were, of course, DELIGHTED to do so! The regular tagged us on Twitter to let us know that the care package was a GIANT HIT and, well, Twitter got super excited about the idea. We've since curated and shipped around 40 Queer Qare packages around the country! There has been so much interest in this that we have created a landing page so you can send a Queer Qare Package to a loved anytime of the year!
All Queer Qare packages will include books and nonbook items. Some packages may include promotional copies of books we think the recipient may like (you do not pay for these, we throw them in for free if there's something we think they'd love). There are no returns on any items included in Queer Qare Packages.
We cannot make a Queer Qare package for under $70 (not including shipping). We tried to curate a few that were in the $25 to $45 range and their recipient's mostly just got 1 book and 1 sticker. For this reason, you will only be able to purchase packages beginning at $70. If you would like to send your friend a surprise in the mail for less than that, we encourage you to buy them a single book from our website and put their address in the shipping info; we can giftwrap the book & include a note from you for free (:
AFTER YOU PURCHASE A QUEER QARE PACKAGE, FILL OUT THIS GOOGLE FORM. We cannot start curation on your package until it is filled out.
FREQUENTLY ASKED QUESTIONS:
Can we ship internationally?
Unfortunately, we cannot. The shipping fees are prohibitory. If you know shipping internationally is expen$$$$ive and you are still interested, email us and we may be able to make it work.
Do I have to pay for shipping or can I pick up the package at the store?
For those who are local, you can choose CONTACTLESS PICKUP AT STORE at checkout. You will not be charged shipping. You will be notified via email as soon as your package is ready for pickup.
Can I order a Queer Qare Package for myself?
YES, OF COURSE, GOODEST HUMAN! Of course you can! You deserve joy & celebration, too. (tbh, if I could order one for myself without *me* knowing, I would)
Thank you for supporting a queer & Trans owned bookstore and, more importantly, thank you for supporting the beloved queer folks in your life.
From time to time, we all need a little softness, generosity, celebration & surprise.
Love,
Room
An example of a $70 Queer Qare Package (includes 1 books, 1 promotional copy of a Trans book, 1 coloring book, 1 print, 1 enamel pin, 2 buttons, a Trans Pride flag and a Trans People Belong sticker.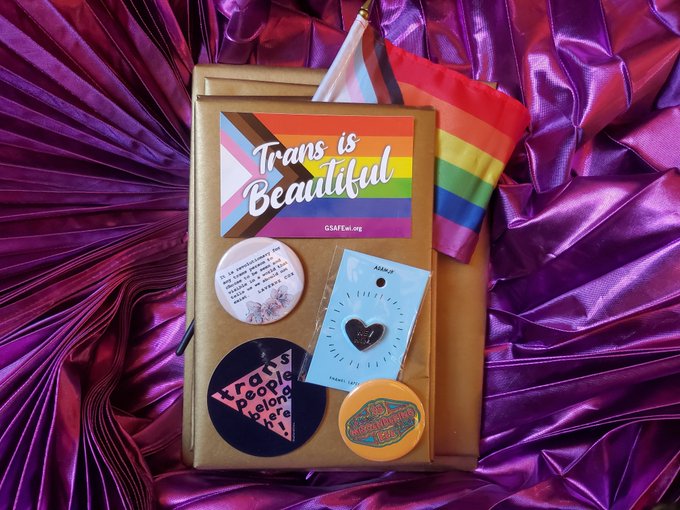 Some more examples of Queer Qare Packages: