La caza del genio del crimen (Hunting Leroux - Spanish Edition) (Paperback)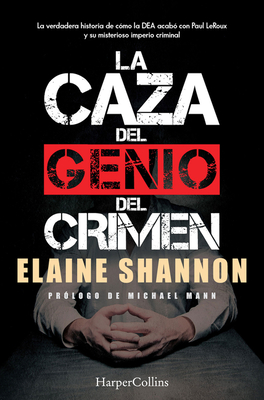 $18.99

Usually Ships in 2-7 Days
All sales of this book are final--it is print on demand and may take up to 2 weeks to arrive.
Description
---
La verdadera historia de cómo la DEA acabó con Paul LeRoux y su misterioso imperio criminal.
«Una obra maestra de la investigación. Es sin duda la visión más completa que existe sobre una operación muy compleja y de alto nivel de la DEA. Es una mirada fascinante sobre un sindicato del crimen organizado internacional y de su carismático y letal capo que ha usado internet como un arma a la hora de construir un imperio criminal. Paul Leroux es un asesino a sangre fría y uno de los criminales más aterradores e intrigantes sobre los que he leído. Una prueba de las habilidades de Shannon como escritora es que este libro se lee como un thriller de esos que no puedes soltar. Meticulosamente documentado y con acceso exclusivo a casi todos los personajes clave de ambos lados de la ley, este es el traao defi nitivo sore el ascenso y caída de un ser maligno como Paul Leroux, además de ser una saga criminal que te deja con la boca abierta. Shannon lleva al lector dentro de la historia, de manera que parece que estás en el mismo cuarto, en la misma caza y en medio de la acción de toda la operación de la DEA en la persecución global del rey del crimen del siglo XXI. Es una sobresaliente trabajo de investigación por una maestra del periodismo».
Don Winslow, escritor superventas del New York Times, autor de El cártel, El poder del perro y La frontera
About the Author
---
Elaine Shannon, aclamada corresponsal veterana de Time y Newsweek, es la autora del superventas del New York Times Desperados: Latin Drug Lords, U.S. Lawmen, and the War America Can't Win, que sirvió de inspiración para la miniserie de la NBC ganadora del Emmy y dirigida por Michael Mann Drug Wars: The Camarena Story, y para su secuela, nominada al Emmy, Drug Wars: The Cocaine Cartel. Shannon es una respetada reportera de investigación, persona de confianza de las fuerzas de seguridad y de los servicios de inteligencia, además de una experta en terrorismo, crimen organizado y espionaje. Es autora de No Heroes:. Inside the FBI's Secret Counter-Terror Force y The Spy Next Door: The Extraordinary Secret Life of Robert Philip Hanssen, the Most Damaging FBI Agent in U.S. History.
Praise For…
---
"Una obra maestra de la investigación... una mirada fascinante... LeRoux es... uno de los criminales más intrigantes y terroríficos sobre los que jamás he leído... Un libro asombroso obra de una gran periodista de investigación"
— Don Winslow, escritor superventas del New York Times, autor de El cártel y El poder del perro.

"El gran éxito del crimen internacional. El relato incisivo y absorbente que Elaine Shannon hace sobre el padre del crimen cibernético organizado Paul Calder LeRoux te pondrá los pelos de punta al presentar a una nueva clase de criminal que resulta muy terrorífico porque es muy real"
— Dennis Lehane, escritor superventas del New York Times, autor de Mystic River y Adiós, pequeña, adios