ICC Berlin (Hardcover)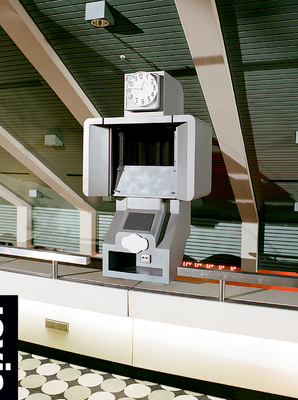 $39.99

Coming Soon - Available for Pre-Order Now
Description
---
Bilingual edition (English/German) / Zweisprachige Ausgabe (deutsch/englisch)
The ICC Berlin is a Gesamtkunstwerk, a giant time capsule that has been waiting for a new usage concept for almost a decade. Planned in the 1960s and opened in 1979, the exhibition building--designed by Ursulina Sch ler-Witte and Ralf Sch ler, and encompassing Frank Oehring's incomparable wayfinding system--remains an attentiongrabbing structure. While the building's brutalist exterior overwhelms the viewer, its interior conveys an air of calm, offering a view of the suddenly quieted traffic through its panoramic windows.
This volume of photographs by Zara Pfeifer is dedicated to documenting the interior of the building. Taking an unsentimental approach, Pfeifer records the largely unchanged inner appearance of the building that has been variously dubbed the Giant of Witzleben, the Battleship Charlottenburg, or the Hall of Megalomania. Her images develop a sense for the building's noteworthy elements and capture the liminal condition in which it has been suspended for years.
About the Author
---
Zara Pfeifer is a photographer and architect. Her works reflect her interest in social and spatial phenomena. Whether documenting social interactions in the modernist Alterlaa housing project or as a passenger in a lorry travelling through Europe, Pfeifer inserts herself into the worlds she documents--not just as an observer, but as an active participant.