Robert Crumb. Sketchbook Vol. 6. 1998-2011 (Hardcover)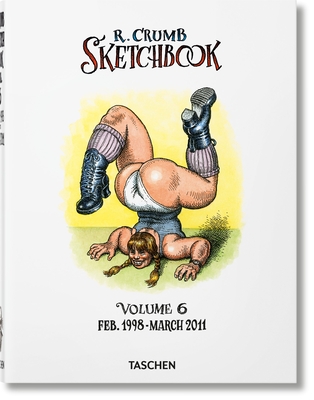 $40.00

Usually Ships in 2-7 Days
All sales of this book are final--it is print on demand and may take up to 2 weeks to arrive.
Description
---
"Silly Fool Comics" fills the final page in this final volume, with a devilish creature telling the anguished Crumb, "YOU Will Soon Be DEAD " He was a mere 67, but in his self-absorbed Crumbish way was obsessing about death, when not making intimate and loving portraits of his wife Aline and all the other women who'd tormented his libido since boyhood. Most impressive in this book are his historic tableau, some single page, others multi-page strips, including Piers the Ploughman of 14th century England, My Secret Life by "Walter," Rough Women of the Dark Ages and The Apache Dance, from a 1930s Parisian postcard. His Rapidographed cross hatching is superb as ever and we are treated to long screeds displaying his undimmed brilliance at analyzing the human condition, in a morbid but nonetheless amusing way.
One could say there are no surprises in content, as Crumb has produced a consistent body of work over the last 40, if not 50, years, yet each page is also jarringly different from the one before, due to his personal juxtaposition of images. So much is packed in you can spend an hour and find you're only a quarter of the way through, with Crumb bemoaning his mortality, while continuing to prosper, every few pages. A fine stand-alone volume, and must-have completion for the sketchbook set.