Aalto (Hardcover)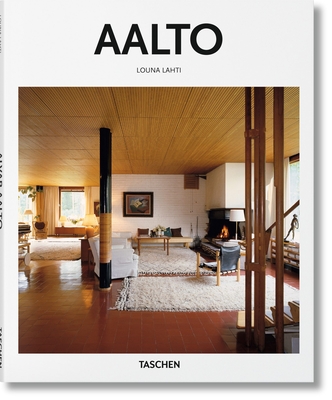 $20.00
This item is out of stock with our warehouse. Some recently published books may be in stock @ Room. Email to check.
Description
---
Alvar Aalto (1898-1976) a laiss une trace unique dans le modernisme. Influenc la fois par le paysage et par l'ind pendance politique de sa native Finlande, il imagina des b timents chaleureux, courb's et empathiques qui tranchent r solument avec les cr ations lisses, m caniques et g om triques de la plupart de ses contemporains europ ens.
Qu'il s'agisse d'une glise, d'une villa, d'un sauna ou d'un biblioth que publique, les structures organiques d'Aalto tendaient remplacer le pl tre et l'acier par la brique et le bois, incorporant souvent des formes ondulantes, comme la houle, qui apparaissent aussi dans son mobilier, sa verrerie et ses luminaires.
Attentif aux d tails, Aalto insistait sur l'humanit et le r le soci tal de l'architecture: L'architecture moderne n'exige pas d'utiliser de nouveaux mat riaux immatures; le principal est de travailler avec des mat riaux qui favorisent une ligne plus humaine. Nombre de ses immeubles publics, comme la mairie de S yn tsalo, le centre de conf rences de l'Otaniemi Technical University, le National Pensions Institute d'Helsinki et la Maison de la Culture d'Helsinki, sont des rep res autant psychologiques que physiques de la Finlande en reconstruction apr's le ravages de la guerre.
Ce livre rassemble les oeuvres cl d'Aalto afin de pr senter l'architecte consid r comme le champion d'un design cologiquement sain et progressif, avec un sens profond du foyer.
propos de la collection
Chaque volume de la Basic Architecture Series de TASCHEN contient:
en introduction, des textes qui explorent l'origine, la vie et l'oeuvre de l'architecte
ses r alisations majeures, pr sent es dans l'ordre chronologique
des informations sur les commanditaires, les conditions architectoniques pr alables ainsi que les probl mes de construction rencontr's et les solutions qui leur ont t apport es
une liste de toutes les r alisations's lectionn es et une carte sur laquelle sont indiqu es les constructions les plus c l bres de l'architecte
environ 120 illustrations (photographies, esquisses, dessins et plans)