Jade's Erotic Adventures: Books 16 - 20 (Lesbian Bisexual Transgender Erotica) (Lesbian Erotica #4) (Paperback)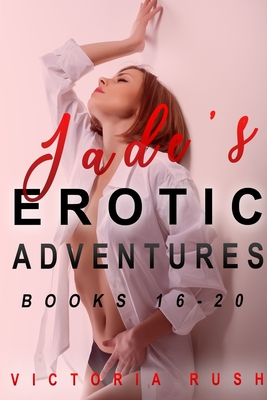 $22.99

In stock with our warehouse--usually ships within 1-7 days. May or may not be in stock at Room.
Other Books in Series
This is book number 4 in the Lesbian Erotica series.
Description
---
Enjoy the bestselling women's erotica series - now 50% off.
Book 16: The Costume Party
When Jade's best friend Hannah tells her they've been invited to the most exclusive party of the year, Jade is intrigued. But when Hannah explains that it's going to be a nude costume party at billionaire Steve Bannon's mansion, she gets even more excited.
As they begin to search for sexy costumes online, Jade becomes increasingly aroused thinking of all the fun she can have playing a different character. When she finally settles on the outfit she wants to wear, she decides to keep it a secret until they arrive at the estate...
Book 17: Swedish Sauna
When Jade takes a holiday flight to Sweden, she's floored by how beautiful the flight attendants are on the plane. As she watches the sexy stewardesses go about their duties, she curls up in her seat by the window and has a silent climax under her cozy blanket.
On the way off the plane, the lead flight attendant passes her a note, inviting her to go skiing with her and some of the other stewardesses during her stayover. When Jade gets picked up at the ski resort, things escalate quickly as the four girls get increasingly friendly...
Book 18: The Therapist
When Jade's sex therapist friend Hannah invites her to attend one of her private sessions, she's shocked at what she finds. Instead of merely talking through her clients' problems, she encourages them to actively explore their bodies while she helps them lose their inhibitions.
During the initial session, Jade hides in a secluded location while a young college coed touches herself behind a private screen. As she listens to Hannah guiding the girl through her process of self-discovery, she becomes increasingly aroused in the privacy of her broom closet...
Book 19: Elevator Shaft
When Jade is trapped in an elevator with two strangers during a blackout, they quickly find a way to make the best of a sticky situation. In the pitch dark and with the temperature rising, they start to shed their clothes to stay cool.
As they begin to reveal details of their personal lives, inevitably the subject turns to sex. When Jade asks her new friends what their ultimate fantasies are, they both mention how much they've dreamed of a menage...
Book 20: Ladyboy
When Jade goes to a campy cabaret show with her girlfriend, she's amazed at how realistic the female impersonators look. But there's one performer who catches her eye. Beautiful, super-feminine and talented, Jade is quickly smitten with the T-girl.
When she bumps into her a few days later in the supermarket and tells her how much she enjoyed the show, the girl invites her on a coffee date. They quickly become attracted to one another, and before long they're headed back to Jade's place in a fit of passion.
But as they begin to make out, Jade is surprised and delighted to discover the girl is a true hermaphrodite. Equipped with both male and female anatomy, Jade quickly learns that having twice the equipment leads to twice the pleasure...