The Traditional Catholic Baby Name Book: Over 4,500 Catholic Names of Saints, Angels & Virtues (Paperback)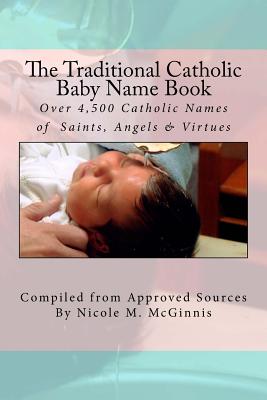 $14.95
Email or call for price.
Description
---
All children should be blessed with the glorious gift of a beautiful Catholic name. What could compare to the blessing of a friend in heaven to pray for the child's soul throughout his or her earthly life? The Traditional Catholic Baby Name Book was compiled lovingly over the course of several years by a traditional Catholic mother who always hoped to find one complete list of Catholic baby names from only approved pre-Vatican II sources. She took all known sources of Catholic names from The Roman Martyrology, Rev. Dunne's work, Is It a Saint's Name?, and Butler's Lives of the Saints to create one extensive, easily accessible reference book. This book also includes some name meanings, ethnic origins of names, the corresponding saint's feast day, several pictures of saints, and a place for up to 30 baby name lists for boys and girls to add to the fun of choosing baby names. This book can also be used in finding saint names for Confirmation or the religious life.