Follow This Thread: A Maze Book to Get Lost In (Hardcover)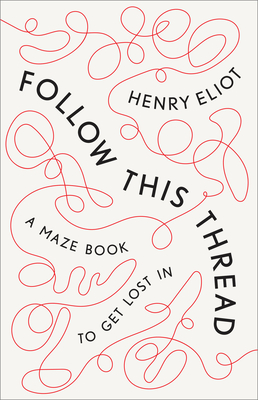 $18.00
This item is out of stock with our warehouse. Some recently published books may be in stock @ Room. Email to check.
Description
---
Beautifully designed and gorgeously illustrated, this immersive, puzzle-like exploration of the history and psychology of mazes and labyrinths evokes the spirit of Choose Your Own Adventure, the textual inventiveness of Tom Stoppard, and the philosophical spirit of Jorge Luis Borges.

Labyrinths are as old as humanity, the proving grounds of heroes, the paths of pilgrims, symbols of spiritual rebirth and pleasure gardens for pure entertainment. Henry Eliot leads us on a twisting journey through the world of mazes, real and imagined, unraveling our ancient, abiding relationship with them and exploring why they continue to fascinate us, from Kafka to Kubrick to the myth of the Minotaur and a quest to solve the disappearance of the legendary Maze King.

Are you ready to step inside?
About the Author
---
Henry Eliot is the creative editor of Penguin Classics. Having studied English Literature at Cambridge University, he has spent the past decade immersed in literature, creating a mass public pilgrimage for the National Trust inspired by William Morris, recreating Chaucer's Canterbury Tales to raise money for the National Literacy Trust and leading a number of literary tours, including a Lake Poets tour of Cumbria and a quest for the Holy Grail based on Malory's Morte Darthur. He was a Trustee of the William Blake literary society for three years. He is the author of Follow This Thread, a maze-like book about the history and psychology of mazes, and Curiocity, written with Matt Lloyd-Rose, an illustrated book of unexpected London journeys and experiences.
Praise For…
---
"Beautifully disorienting...A fun book to get lost in." 
—Ari Shapiro, NPR

"Delightful, ingenious, and beautifully designed." 
—Philip Pullman, author of the His Dark Materials trilogy

"Captivating and informative.... Getting lost and found in Eliot's contemplative prose and Quibe's clever drawings is a...gratifying experience." 
—Publishers Weekly

"An utterly unique reading experience." 
—Booklist

"The illustrations encourage the reader to follow a single red line as it surges and zigzags from page to page, sometimes making us read upside down or back to front. It turns reading into a game in which the book is both a puzzle and its own solution, and the results are variously enticing, frustrating, and addictive—not unlike a real maze." 
—Guardian

"Eliot's book darts with a nimble wit, sentences arcing from one page to the next so you must turn the entire thing as you read, an experience I had not had since the labyrinths of Mark Z. Danielewski's novel House of Leaves. Ariadne's red thread runs throughout, a sinuous scribble forming mazes, but also minotaurs and Mephistopheles and Lara Croft."
—New Statesman "
 
"Real labyrinthine fun ... a remarkable feat of creativity."
—Bookseller
 
"A hypnotising and strangely physical experience. Uniquely magical, each page offers new delights. Many books are described as 'journeys,' but Follow This Thread really is one." 
—Alan Connor, author of Two Girls, One on Each Knee
 
"Genuinely odd . . . you'll want to buy copies for all your friends."
—Spectator
 
"Beautifully immaculate degree zero prose . . . [an] exhilarating experience"
—Greg Bright, the "Maze King"