Worlds Long Lost (Paperback)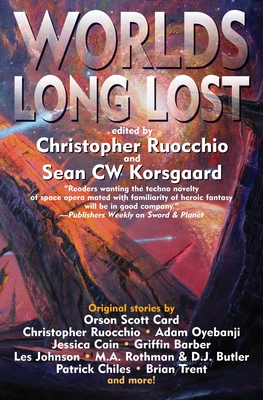 $16.00

In stock with our warehouse--usually ships within 1-7 days. May or may not be in stock at Room.
Description
---
ALL-NEW STORIES OF ANCIENT ALIEN ARTIFACTS FROM THE TOP NAMES IN SCIENCE FICTION AND FANTASY

THE UNIVERSE IS OLDER AND MORE ALIEN THAN WE CAN EVER UNDERSTAND

We were not alone. The farther we push into the universe, the more obvious it becomes. The signs are everywhere: canals and pyramids on Mars, old roads on the moons of Jupiter, ruined cities on worlds about the nearer stars. The galaxy once teemed with life, or so it seems. Which begs the question: What happened to it all?

These stories explore the ruins of lost civilizations, solve ancient mysteries . . . and awaken horrors from beyond the dawn of time.

Featuring stories by Orson Scott Card, Griffin Barber, Adam Oyebanji, Jessica Maguire, Patrick Chiles, and an all-new entry in the Sun Eater universe from editor Christopher Ruocchio. Join us for your next adventure to Worlds Long Lost!

Praise for Worlds Long Lost:
"Ruocchio (the Sun Eater series) and Korsgaard bring together 14 mind-bending and often disturbing tales of ancient extraterrestrial civilizations throughout the universe . . . Full of creepy flights of imagination and thought-provoking science, this will be a hit with fans of first contact sci-fi."—Publisher's Weekly

"Ruocchio and Korsgaard have shown themselves to have the taste and the discernment of master vintners, going through the grapevine of the science fiction genre to find the sweetest berries. Worlds Long Lost is no mere vinegar, but the finest vintage you can find today. If science fiction were wine, this anthology sparkles, both like champagne, and like the stars in the heavens."—Warped Factor

About Star Destroyers, coedited by Christopher Ruocchio:
". . . spectacular space battles and alien contacts . . . themes of military ethics, the uses of artificial intelligence, and the limits of the capacity of the human mind. . . . it is the human interactions and decisions that ultimately drive the stories. . . . will appeal to fans of military and hard science fiction and any readers fascinated by the possibilities of space travel."—Booklist

". . . stories of giant spaceships at war, at peace, and in the often-gray areas between. . . . a worthy addition to a long tradition of ship-based fiction, and its authors portray captains, arcane astrogators, and civilian child passengers with equal depth. It's recommended for fans of military SF and space adventure."—Publishers Weekly

". . . you'd probably expect some tight, action-filled space opera stories of giant space battles . . . and there's some of that. But there are also espionage stories, rescue missions, political conflicts, alternate histories, even a few humorous tales. . . . each author took the premise in a different direction . . . if I had to identify one common feature to all the stories, it would be that they're all fun. . . . Like it says, big ships blowing things up. What's not to like?"—Analog

About Sword & Planet, edited by Christopher Ruocchio:
". . . the wide mix of stories, and the surprising places they go make this anthology a particular joy from start to finish . . . ofers a glimpse into everything that made stories like these a popular standby since the pulp era, with enough creativity, variety and talent showcased to prove that there's still plenty of life in the century-old genre . . . I recommend it heartily."—Analog

"Sword & Planet breathes new life into a genre that many understandably felt was left moldering in the grave. It's old-school wonder with twenty-first century polish—what's not to like?"—Warped Factor
About the Author
---
Christopher Ruocchio is the author of The Sun Eater, a space opera fantasy series, as well as a former assistant editor at Baen Books, where he has edited several anthologies. He is a graduate of North Carolina State University, where he studied English Rhetoric and the Classics. Christopher has been writing since he was eight and sold his first novel, Empire of Silence, at twenty-two. To date, his books have been published in five languages.

Christopher lives in Raleigh, North Carolina with his wife, Jenna.

Sean CW Korsgaard is a US Army veteran, award-winning photojournalist and freelance reporter, and an assistant editor and media relations manager at Baen Books. As a reporter he has over 1,500 bylines to his name, and his work has been featured in outlets as diverse as The New York Times, VFW Magazine, and Analog. He is a graduate of Virginia Commonwealth University, where he studied mass communications and history.

Sean lives in Richmond, Virginia, with his wife, Suzy.

Patrick Chiles is a graduate of The Citadel, a Marine Corps veteran, and a private pilot. In addition to his novels, he has written for magazines including Smithsonian's Air & Space.

Les Johnson is a futurist, author, and NASA technologist. Publishers Weekly noted that "The spirit of Arthur C. Clarke and his contemporaries is alive and well…" when describing his novel, Mission to Methone. His most recent novels, The Spacetime War and Saving Proxima (with co-author, Travis Taylor), were published in 2021. In his day job at NASA, Les leads the Near-Earth Asteroid Scout mission that will use a 925 square foot solar sail to propel a small spacecraft to rendezvous with an asteroid.

D.J. ("Dave") Butler grew up in swamps, deserts, and mountains. After messing around for years with the practice of law, he finally got serious and turned to his lifelong passion of storytelling. He now writes adventure stories for readers of all ages, plays guitar, and spends as much time as he can with his family. He is the author of City of the Saints, Rock Band Fights Evil, Space Eldritch, and Crecheling from Wordfire Press, and Witchy Eye, Witchy Winter, Witchy Kingdom, and Serpent Daughter, and The Cunning Man and The Jupiter Knife with coauthor Aaron Michael Ritchey, In the Palace of Shadow and Joy, and Abbott in Darkness, from Baen.

USA TODAY best-selling author M.A. Rothman is one of the most unlikely novelists you'll ever meet. He's an engineer first and foremost, with a background in the sciences, and somehow or another, this writing habit of his has turned into a lucrative career as an independent author.

He primarily writes stories that focus on two things: technology and international intrigue. This writing tends to span the genres of science fiction, techno-thriller, and mainstream thrillers.

When not writing, he enjoys cooking, learning about new technology, travel, and spending time with his family.