When Time Stopped: A Memoir of My Father's War and What Remains (Paperback)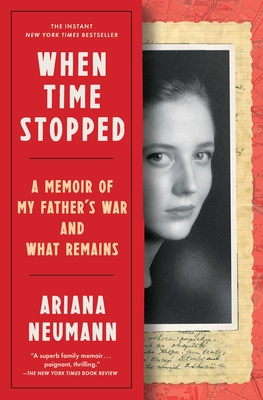 $18.00

In stock with our warehouse--usually ships within 1-7 days. May or may not be in stock at Room.
February 2020 Indie Next List
---
"This book is beautiful, intimate, breathtaking, and heartbreaking. It reads like a novel and yet gives a better sense of what was happening to Jewish families during the Holocaust than any history book I've read. I feel so invested in the Neumann family and their friends, as if I know them personally. More than anything, my takeaway from this book is the love and hope that was so clearly poured into it."
— Gabrielle Belisle, An Unlikely Story, Plainville, MA
Winter 2020 Reading Group Indie Next List
---
"This book exceeded all my expectations — an exceptional memoir! A woman cobbles together her father's enigmatic past to build a clear picture of the progression of restrictions and brutality against Jews in WWII. An astounding revelation of anguish and grasps of hope."
— Annette Steinmetz, The Well-Read Moose, Coeur d'Alene, ID
Description
---
In this astonishing story that "reads like a thriller and is so, so timely" (BuzzFeed) Ariana Neumann dives into the secrets of her father's past: "Like Anne Frank's diary, it offers a story that needs to be told and heard" (Booklist, starred review).

In 1941, the first Neumann family member was taken by the Nazis, arrested in German-occupied Czechoslovakia for bathing in a stretch of river forbidden to Jews. He was transported to Auschwitz. Eighteen days later his prisoner number was entered into the morgue book.

Of thirty-four Neumann family members, twenty-five were murdered by the Nazis. One of the survivors was Hans Neumann, who, to escape the German death net, traveled to Berlin and hid in plain sight under the Gestapo's eyes. What Hans experienced was so unspeakable that, when he built an industrial empire in Venezuela, he couldn't bring himself to talk about it. All his daughter Ariana knew was that something terrible had happened.

When Hans died, he left Ariana a small box filled with letters, diary entries, and other memorabilia. Ten years later Ariana finally summoned the courage to have the letters translated, and she began reading. What she discovered launched her on a worldwide search that would deliver indelible portraits of a family loving, finding meaning, and trying to survive amid the worst that can be imagined.

A "beautifully told story of personal discovery" (John le Carré), When Time Stopped is an unputdownable detective story and an epic family memoir, spanning nearly ninety years and crossing oceans. Neumann brings each relative to vivid life, and this "gripping, expertly researched narrative will inspire those looking to uncover their own family histories" (Publishers Weekly).
About the Author
---
Ariana Neumann was born and grew up in Venezuela. She previously worked as a foreign correspondent for Venezuela's The Daily Journal and her writing has also appeared in The European. She currently lives in London with her family. When Time Stopped is her first book.
Praise For…
---
New York Times Bestseller

An Amazon Best Books of the Year Pick

Winner of the 2020 National Jewish Book Award for Autobiography/Memoir

"The story Neumann uncovers is worthy of fiction with hairpin plot twists, daredevil acts of love and unexpected moments of humor in dark times. Given the slew of colorful characters and dramatic details, she could have turned her painstaking research into a historical novel. Instead she has written a superb family memoir that unfolds its poignant power on multiple levels. Yes, her account of one Jewish-Czech family's race to outwit the Nazis makes for thrilling reading. But just as important is her lucid investigation of the nature of memory, identity and remembrance."
—The New York Times Book Review

"At times the revelations are so extraordinary to modern eyes that the memoir has an almost fictional feel."
—Financial Times

"A beautifully told story of personal discovery, of almost unimaginable human bravery and sacrifice, and a harrowing portrait of living, dying, and surviving under the yoke of Nazism."
—John le Carré, author of Agent Running in the Field

"Evocative . . . Neumann discovers her Jewish roots and pieces together the incredible, heartbreaking family history her father never told her."
—Real Simple

"Utterly riveting: Ms. Neumann's memoir reads like a detective novel as she unravels her late father's complex, agonizing yet inspiring trajectory."
—Claire Messud, author of The Emperor's Children and The Woman Upstairs

"Elegantly structured . . . the author reconstructs with considerable literary finesse the life of her father."
—Kirkus Reviews

"Extraordinary in its reach and its depth. I felt such kinship with the way in which Ariana Neumann moved through the world. . . . Absolutely remarkable."
—Edmund de Waal, author of The Hare with Amber Eyes

"Deeply moving . . . This gripping, expertly researched narrative will inspire those looking to uncover their own family histories."
—Publishers Weekly

"Ariana Neumann's beautiful, meticulously researched memoir is an extraordinarily moving story of a family's lost history, a father's well-kept secret, and a daughter who pieces it all together with courage, tenacity, and most of all, love."
—Dani Shapiro, author of Inheritance, Devotion, and Still Writing

"Profound, gripping, and gut-wrenching…This heartbreaking and unforgettable memoir belongs in every library for the important history Neumann unearths. Like Anne Frank's diary, it offers a story that needs to be told and heard."
—Booklist (starred review)

"Never in my reading life have I ever come across anything akin to this magical, brilliant, and gripping work of art."
—Deborah Copaken, author of The Red Book

"Full of tales of courage…this meticulously researched work is unforgettable."
—Sunday Mirror

"Extraordinary…what remains is so vast, so much more than one life brought out from the shadows: it is a daughter's deep love and humanity towards a complex and occasionally difficult father who tried to shield her from the pain of knowing about his earlier life, but it is also the story of a whole family lovingly recreated….[When Time Stopped is] a treasure to be savored as testament of the human will to survive."
—Anne Sebba, The Spectator

"Extraordinary… To unearth such stories takes great determination, patience and sensitivity, not least because so many of those who survived did so by suppressing the truth."
—The Guardian

"Remarkable . . . Through painstaking, meticulous research Neumann tells the true story—part memoir, part history—of her heartwrenching and ultimately life-affirming journey in uncovering her family's long hidden past."
—Georgia Hunter, author of We Were the Lucky Ones

"An astonishing story of survival . . . Neumann's eloquent, skillfully researched book will appeal to many, especially those interested in family histories and the lives of Holocaust survivors."
—Library Journal

"A love letter to a father who, out of sheer will and determination, did not allow the Nazis to destroy him . . . A classic story of redemption and love."
—Janine di Giovanni, author of The Morning They Came for Us

"Reads like a thriller and it is so timely. The work and emotion put into [the] book is unbelievable."
—BuzzFeed

"An astonishing family memoir that will imprint itself on your psyche . . . Ariana Neumann has breached the hidden surface of her family's tumultuous past and brought not only their tragedies and sorrows but also their joys and loves, to indelible light."
—John Burnham Schwartz, author of The Red Daughter and Reservation Road

"A brilliantly heart-wrenching memoir . . . Neumann is a gifted, visceral writer."
—BookPage (starred review)

"When Time Stopped vitally confirms our experience as survivors and carries our same message of hope: Nothing will be forgotten. All will be passed down and remembered. Thank you, Ariana Neumann, for writing this book."
—Helena Klimova and Ivan Klíma, winner of the Franz Kafka Prize and author of My Crazy Century and Love and Garbage

"A beautifully wrought book that is both a detective story and a family history."
—The Times of Israel

"A fascinating and beautifully constructed memoir and more than that, a testimonial to the power of meticulous research and family love."
—Caroline Moorehead, author of A Train in Winter and Village of Secrets

"A moving saga of war and the Holocaust . . . Never to be forgotten as long as such accounts remain."
—Bookreporter

"A carefully woven, beautifully written tapestry. This is a work of resistance against oblivion, a reminder against forgetting, an investigation driven by true love."
—Stephen D. Smith, PhD, executive director of the USC Shoah Foundation

"Occasionally there appears a book so devastating that the only response is stunned silence. . . . When Time Stopped is about the triumph of the human spirit."
—Frances Wilson, The Oldie

"[A] powerful memoir…[that] reads like a detective novel."
—Hey Alma

"Ariana Neumann has given us a gripping true story—the account of her father's determination to survive the Holocaust and the clues he left behind…This is nonfiction that reads like a detective thriller."
—Tilar J. Mazzeo, author of Irena's Children

"Beautifully written…One of the most powerful and profoundly moving family stories of the Holocaust to have been published in many years and a must read."
—Dan Stone, Director of the Holocaust Research Institute, Royal Holloway, University of London

"Compelling…brilliant…This remarkable, beautifully written book is full of sadness but it also full of great beauty and joy."
—Daily Mail

"When Time Stopped is more than just history. It's a warning."
—Michael Palin