AntoloGaia: Queering the Seventies, A Radical Trans Memoir (Other Voices of Italy) (Paperback)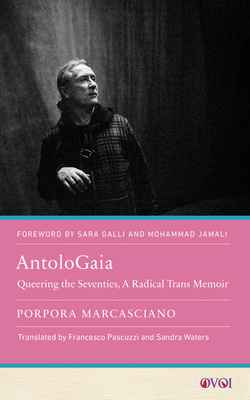 $26.95

Coming Soon - Available for Pre-Order Now
Description
---
In this stirring memoir by a member of the first generation of LGBTQ+ activists in Italy, Porpora Marcasciano tells her story and shares the struggles and accomplishments of her fellow activists who achieved so much in the 1970s yet suffered devastating losses during the AIDS epidemic of the 1980s. AntoloGaia offers an insider's look at the beginnings of the gay liberation movement in Italy and reveals how it was intimately intertwined with other forms of left-wing activism. At the same time, it powerfully conveys the queer joy of a young person from a small village first encountering the vibrant sexual minority communities of Naples, Bologna, and Rome. As Marcasciano starts to embrace her trans identity, she meets the famous anthropologist Pino Simonelli, who introduces her to Naples's unique femminielli subculture and gives her the name Porporino, which she later shortens to Porpora. In keeping with this story of gender, sexual, and political discovery, AntoloGaia is the first piece of Italian life-writing to use gender-neutral and mixed-gender language.

 
About the Author
---
PORPORA MARCASCIANO is a sociologist, activist, writer, and municipal counselor in the city of Bologna, Italy. She is the honorary president of the Trans Identity Movement (MIT) and author of Dawn of the Bad Transwoman: Stories, Gazes and Experiences of My Transgender Generation. 
 
FRANCESCO PASCUZZI is an assistant teaching professor at Rutgers University–New Brunswick. He is the coeditor of the collection Dreamscapes in Italian Cinema (2015). He lives in Somerset County, New Jersey. 
 
SANDRA WATERS is the managing editor of Italian Quarterly and coedits the Other Voices of Italy series for Rutgers University Press. She is the coeditor of The Spaces and Places of Horror. She lives in St. Paul, Minnesota.  
 
Praise For…
---
"Porpora Marcasciano says of this electrifying memoir that, if she could, she would have written it in verse to better capture the wild anarchic energy of the world that fueled her activism. No need. Her life story is poetry enough. What a gift to English speakers for her story to find us now, when we need the inspiration of as much wild anarchic energy as possible."
— Susan Stryker

"A fascinating look into Italy's radical queer and trans cultures and their fraught relationship with wider left-wing politics, Marcasciano's AntoloGaia is just as much a guide to how to live one's life with courage, conviction, and creativity." 
— Juliet Jacques

"This is a book of exploration—of gender, of one's life, of things one has dared to dream. Like the people we meet, the stories Porpora Marcasciano tells are cradled in a radical trans love, and isn't that one of the best kinds of love? As you read, you too will be cradled and never abandoned." 
— Marquis Bey

"This trans memoir by Porpora Marcasciano, someone who felt born into the wrong world, could not come at a better time. Sexual rights for minorities have been on the map since humans have shared their feelings about being in the world, and what a fitting opportunity that a trans story from 1970s Italy has come to light in this beautiful translation."
— Bernadette Wegenstein

"Marcasciano's life is a valuable part of trans history, and her account of the queer movement in Italy during the chaotic 1970s is eye-opening."
— Diana Goetsch