Painting, Passion and the Art of Life (Paperback)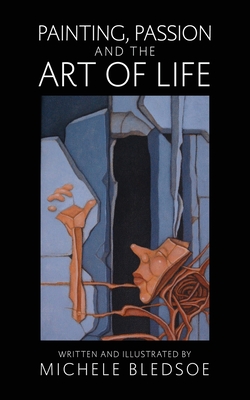 $15.95

Usually Ships in 2-7 Days
All sales of this book are final--it is print on demand and may take up to 2 weeks to arrive.
Description
---
A small book with a big message.
Painting, Passion and the Art of Life is an inspirational, artistic journey that will change the way you think and feel about your own gifts, your purpose and your impact on the world around you.
These meditations on painting and drawing contain universal messages on work, love and life. Readers don't have to be artists to connect with this moving collection of personal stories; we all have our own unique gifts to share.
Clear, inspiring, and short, the book is divided into 5 parts -- each section covering an aspect of the gift of creativity. Organized into concise segments (some only a paragraph or a few, impactful sentences long) this book is also filled with imaginative and quirky illustrations taken directly from the author's sketchbooks.
Bledsoe devotes much of Painting, Passion and the Art of Life to God, spirituality and the pursuit of higher meaning. It encourages the use of our talents for a purpose beyond the commercial value of our gifts.
Painting, Passion and the Art of Life gives creative people of all ages the motivation and enthusiasm to cultivate their gifts, share their talents, and recognize their place in the fellowship of life. These heartwarming stories will inspire the reader to embrace their purpose, and to recognize the profound impact that dedication, faith and vision has on family, friends and all those who connect with us.
MICHELE BLEDSOE is a self-taught artist and has been exhibiting her paintings and drawings in galleries for over 20 years. She is the co-author and illustrator of The Secret Kingdom - a children's book of paintings and poetry, and the illustrator of Lemon Bee and Other Peculiar Tales by author, Patricia Lynn Dompieri. Michele and her husband, artist Richard Bledsoe, live and paint happily together in Phoenix, Arizona.