Tough Street: From Osage to London to Lehigh, the Remarkable Life of Gerald "Germ" Leeman (Hardcover)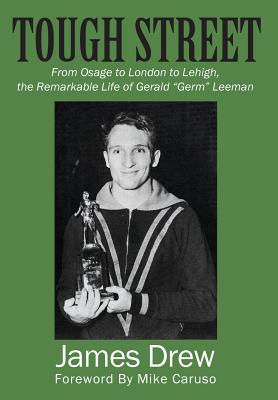 $33.95

In stock with our warehouse--usually ships within 1-7 days. May or may not be in stock at Room.
All sales of this book are final--it is print on demand and may take up to 3 weeks to arrive.
Description
---
Gerald Grant Leeman emerged from a life of poverty and addiction to become one of the greatest wrestlers and most beloved coaches in American history. Nicknamed "Germ" due to his small stature, Gerald and his nine siblings lived hardscrabble childhoods, but their Osage, Iowa, roots grew deep and served them well. In Germ's case, those humble beginnings taught lessons that led to three state high school wrestling titles; serving as a Naval carrier pilot; an NCAA championship during which he was named Most Outstanding Wrestler; an Olympic silver medal; and a storied coaching career at Lehigh University. The son of an alcoholic father, Gerald battled the disease later in life with grace and dignity, and became a glowing example of the power of recovery and redemption. Tough Street illuminates Germ's expansive impact on his siblings, teammates, children, and, most poignantly, his wrestlers at Lehigh, where famed Grace Hall's arena bears his name. Gerald Leeman lived the American Dream.
- "God gave Gerald Leeman abilities no one else could have. Leeman was an artist in our sport. It's difficult to describe unless you saw him. He is the greatest wrestler I ever saw, and I've seen them all." - Bill Nelson, three-time NCAA champion and 1948 Olympian
- "The thing about Gerry is you could surround him with chief executives of any company, politicians from all over the world, with farmers or Indian chiefs, and he would soon be ruling the room. He had that presence, that aura." - Kirk Pendleton, 1963 NCAA champion
- "Gerry Leeman was a legend who absolutely loved the sport. Going into Grace Hall -- The Snake Pit -- for a dual, well, Leeman would fill the place up and those partisans would pound their feet on the metal bleachers. The noise was so intimidating." - Donald Rumsfeld, former Princeton wrestling team captain and United States Secretary of Defense
- "Gerald Leeman was so much more than our coach. He was a molder of men, an educator who used the lessons of strife on the mat to form foundation in his boys, enabling them to achieve fame, fortune and esteem in their lives. This is his legacy." - Mike Caruso, three-time NCAA champion