The Part That Burns (Paperback)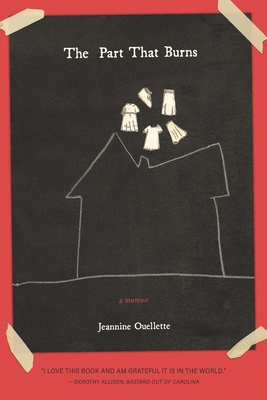 $16.00
Usually Ships in 2-7 Days
All sales of this book are final--it is print on demand and may take up to 2 weeks to arrive.
Description
---
"I love this book and am grateful it is in the world." -Dorothy Allison, New York Times best-selling author of Bastard Out of Carolina and Cavedweller"Simply beautiful. Precisely imagined, poetically structured, compelling, and vivid." -Joyce Carol Oates"A textured remembrance of a traumatic childhood that also offers affecting moments of beauty." -Kirkus Reviews (starred review)In her fiercely beautiful memoir, Jeannine Ouellette recollects fragments of her life and arranges them elliptically to witness each piece as torn and whole, as something more than itself. Caught between the dramatic landscapes of Lake Superior and Casper Mountain, between her stepfather's groping and her mother's erratic behavior, Ouellette lives for the day she can become a mother herself and create her own sheltering family. But she cannot know how the visceral reality of both birth and babies will pull her back into the body she long ago abandoned, revealing new layers of pain and desire, and forcing her to choose between her idealistic vision of perfect marriage and motherhood, and the birthright of her own awakening flesh, unruly and alive. The Part That Burns is a story about the tenacity of family roots, the formidable undertow of trauma, and the rebellious and persistent yearning of human beings for love from each other.