I Sell Love: A Night-by-Night Account of a Prostitute's Life-By the Girl Who Lived It (Classic Erotica #17) (Paperback)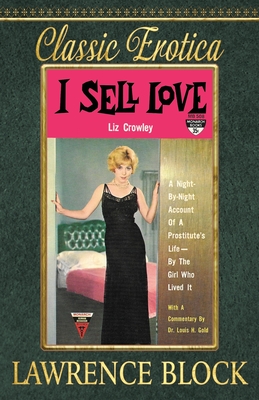 $9.99

In stock with our warehouse--usually ships within 1-7 days. May or may not be in stock at Room.
All sales of this book are final--it is print on demand and may take up to 3 weeks to arrive.
Other Books in Series
This is book number 17 in the Classic Erotica series.
Description
---
From the author:
What's the autobiography of a prostitute doing in the Collection of Classic Erotica?

I asked myself this very question while weighing its suitability for the collection. On the one hand, it's nonfiction, specifically memoir. On the other, it was entirely an invention, a fabrication, its putative narrator no less a creation of my own mind than, say, Linda Shepard in CAMPUS TRAMP.

And then I let Wikipedia wisk me back almost 300 years:

"The Fortunes and Misfortunes of the Famous Moll Flanders (commonly known simply as Moll Flanders) is a novel by Daniel Defoe, first published in 1722. It purports to be the true account of the life of the eponymous Moll, detailing her exploits from birth until old age.

"By 1721, Defoe had become a recognized novelist, with the success of Robinson Crusoe in 1719. His political work was tapering off at this point, due to the fall of both Whig and Tory party leaders with whom he had been associated; Robert Walpole was beginning his rise, and Defoe was never fully at home with the Walpole group. Defoe's Whig views are nevertheless evident in the story of Moll, and the novel's full title gives some insight into this and the outline of the plot:

"The Fortunes and Misfortunes of the Famous Moll Flanders, &c. Who was Born in Newgate, and during a Life of continu'd Variety for Threescore Years, besides her Childhood, was Twelve Year a Whore, five times a Wife (whereof once to her own Brother), Twelve Year a Thief, Eight Year a Transported Felon in Virginia, at last grew Rich, liv'd Honest, and died a Penitent. Written from her own Memorandums.

"It is usually assumed that the novel is written by Daniel Defoe, as his name is commonly published as the author in modern printings of the novel, however the original printing did not have an author, as it was an apparent autobiography. 1] The attribution of Moll Flanders to Defoe was made by Francis Noble, a bookseller in 1770, after Defoe's death in 1731. 2]

"The novel is based partially on the life of Moll King, a London criminal whom Defoe met while visiting Newgate Prison."

I can but conclude that I SELL LOVE has at least as much claim to be regarded as a novel as does Defoe's groundbreaking work--if rather less in the way of literary merit. He, after all, seems to have had a model. And, while I may have rubbed elbows, among other things, with some hookers over the years, Liz Crowley, unlike Ms. Flanders, has no counterpart in reality.

When the Goddess of Design and Production asked if I wanted to drop the afterword by one Dr. Louis H. Gold, I went and had a look at it. My initial assumption was that Charles Heckelmann, longtime editor of Monarch Books, had found some writer to dash off a few words under a medical pen name, all with the aim of legitimizing the text. But the miracle of Google confirms that Dr Gold, born in 1912, was indeed a practicing shrink in Hartford at the time. I presume he was a friend of Heckelmann's, but for all I know he was the man's psychiatrist. We always thought old Charlie ought to get his head examined.