Kept (Classic Erotica #14) (Paperback)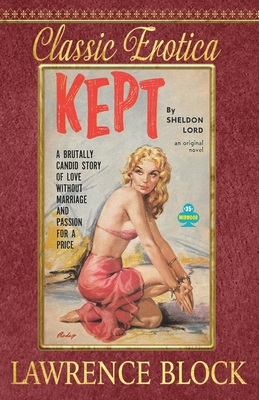 Other Books in Series
This is book number 14 in the Classic Erotica series.
Description
---
From the author:
So you're unemployed, fresh off a construction crew in Albany, and standing on a Thruway ramp trying to thumb a ride, and a babe in a Cadillac convertible stops for you. Hey, these things happen.

They never happened to me, but never mind. For you it's different. You're Mark Taggert and you've got the good sense to get in the car, and it changes your life.

The girl's Elaine Rice, and she's gorgeous and sexy, and you wind up in her Park Avenue apartment, and you go to bed, and the chemistry is right, and there's only one problem. She's rich.

Too rich for you to be comfortable living with her. You're totally lacking in ambition and quite happy drifting, going from town to town and menial job to menial job. It's a life and it's a living and that's enough for you. But if you're going to share Elaine's life, you have to make something of yourself.

So you check out the want ads, and you let her buy you a wardrobe, and she fabricates a r sum for you, and you land a job. And you turn out to be remarkably good at it, but she's still got too much money, and you move out. And, you know, stuff happens...

Pretty interesting set-up, innit? KEPT was the penultimate book Sheldon Lord wrote for Midwood--CANDY, #2 in the Collection of Classic Erotica, was the last--and it's a shame I stopped there. I understand why I did; I was starting to write crime novels, and didn't want to devote a disproportionate amount of my time to erotica, and Bill Hamling's line, Nightstand Books, was paying me significantly more per book than Harry Shorten at Midwood. Hello, Bill. G'bye, Harry.

A pity, though, because Nightstand's artists never came close to the cover art Paul Rader was turning out for Midwood, and his cover for KEPT may be the best of the bunch.