The Adulterers (Classic Erotica #13) (Paperback)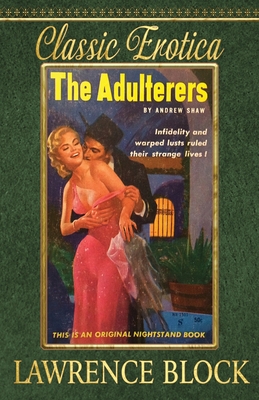 $9.99

In stock with our warehouse--usually ships within 1-7 days. May or may not be in stock at Room.
All sales of this book are final--it is print on demand and may take up to 3 weeks to arrive.
Other Books in Series
This is book number 13 in the Classic Erotica series.
Description
---
From the author:
"Dear Larry, I just finished your The Adulterers. What I found remarkable is that as early as the first few pages, the book read like you, meaning the expository narrative flowed as smoothly as rushing water over rocks. (The only cliche I will allow myself in this short note). And the hooking of the reader into the story, and creating a sense of sympathy for both the husband and the wife, all seemed as effective and effortless as in your (thankfully many) later and better books. Amazingly, you were you, even before Tanner, Bernie, Matthew, or Martin. I found that simply astounding."

That's a recent note from a longtime reader and fan. And here's LB's description of the book:

"Ah, yes. THE ADULTERATORS, the thrilling account of a couple of desperadoes whose violation of the Pure Food and Drug Act brought a nauseated nation to its knees, and--

"Oh, it's THE ADULTERERS? Oh. Well, never mind.

"THE ADULTERERS was my second effort for Bill Hamling's Nightstand Books. Like its predecessor, CAMPUS TRAMP, its cover was the work of Harold W. McCauley. I wrote the book in the fall of 1959, and it's not hard to find its beginning in my own life a little over a year earlier. In May of 1958 I left the employ of Scott Meredith and went home to Buffalo, where I wrote my first novel, STRANGE ARE THE WAYS OF LOVE. Then, with my friend and Antioch roommate Steve Schwerner, I headed to Mexico to devote two months to rest and recreation before returning for another year at the college.

"We flew to Houston, hitchhiked to Laredo--and that last empty stretch of road from Freer to Laredo, where the book begins, bas not faded from memory. We were a long time waiting for a ride, and learned later it was because nobody wanted to pick up a hitchhiker on that stretch of highway; if you did and he put you out of the car, you'd die out there. Well, the guys who picked us up weren't worried. They were Tex-Mex gangsters in a block-long Caddy, and the car's welcome A/C was cool, but they were way cooler.

"THE ADULTERERS features George and Mona Sutton, a sexually incompatible couple on their way to a Mexican divorce. But they meet a helpful guide named Ernesto, and that changes everything. Now Steve and I had met an Ernesto of our own, and he was helpful enough to steer us to some pot, but this Ernesto took George to a live sex show, and it made an impression on the fellow. And, not too long afterward, Mona drank enough rum and Coca-Cola to float a light cruiser, and wound up as the sex slave of El Tigre, who might have been a narco-trafficker if the career category had existed back then.

"So it's a story of evolving depravity. And it's dedicated, you'll note, to Steve and Letitia. You already know who Steve is. Letitia was a young woman at work in one of the establishments we visited, and he became quite fond of her. But, you know, those summer romances never work out..."