Born to Be Bad (Classic Erotica #9) (Paperback)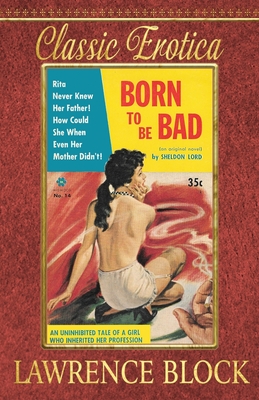 $9.99

In stock with our warehouse--usually ships within 1-7 days. May or may not be in stock at Room.
All sales of this book are final--it is print on demand and may take up to 3 weeks to arrive.
Other Books in Series
This is book number 9 in the Classic Erotica series.
Description
---
From the author:
When I decided to reissue my early books in the Collection of Classic Erotica, I did so without realizing what I was getting myself into. I would have to read them again.

Or, as in the case of BORN TO BE BAD, I'd have to read them for the first time.
I remembered just three things about the book. (1) The title, BORN TO BE BAD. (My mother, on hearing about the novel, suggested that BORN TO BE BANGED might have been a superior choice.) (2) The name of the heroine, Rita Morales. (My mother, bless her heart, thought Rita Immorales might better suit the character.) (3) The circumstances of the writing--that it was the fall of 1958, that I had just returned to Antioch College after a gap year with a literary agency, that I wrote it on an office-model Remington typewriter in the office of the Antioch College Record, where I was serving as Managing Editor prior to assuming the full-time editorship the following semester, and that between the newspaper and the books I was writing, I was devoting precious little time to my classes. When I was supposed to be reading PARADISE LOST, by John Milton, and Roderick Random, by Tobias Smollett, I was instead writing BORN TO BE BAD, by Sheldon Lord.

It was my third novel for Harry Shorten at Midwood Books, and you'd think I might have a clearer recollection of the circumstances of writing it, if not of the book itself. At the very least, I'd have expected to have a good number of Oh Yeah moments while reading it. "Oh yeah, I remember that character. Oh yeah, I remember that scene. Oh yeah, I remember cooking up that plot twist."

Nope. It was all remarkably new to me--and I drew great comfort from the discovery that it was better than I'd expected. It's the story of the daughter of a Cuban prostitute from the slums of Miami who goes to New York, breaks into show business, moves from a Times Square hotel room to a Greenwich Village apartment, and takes aim at a life of middle-class respectability. She meets some unusual people and does some unusual things, and stuff happens. And you know what? It's not bad.

Still, let's keep Rita's bildungsroman in perspective. She's no Becky Sharp, and BORN TO BE BAD's not on the same shelf as Vanity Fair. (Uh, that's be the novel, by William Makepeace Thackeray, not the magazine. But you knew that, right?)
Never mind. I can but hope you enjoy BORN TO BE BAD as much in your first reading of it as I did just now, in mine. I should mention that the cover is by the great Paul Rader, who did so many outstanding covers for Midwood. The book sported a different cover in 1962, when Midwood reissued it with the title PUTA. Then, five years later, they trotted it out again with a third cover and its original title restored. So I guess they must have sold a few copies over the years, but I never got anything beyond the original $600 advance. But you know what? I'm okay with it.