Community of Women (Classic Erotica #8) (Paperback)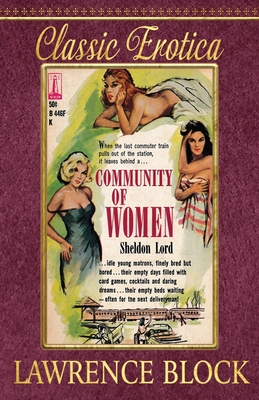 $9.99

In stock with our warehouse--usually ships within 1-7 days. May or may not be in stock at Room.
All sales of this book are final--it is print on demand and may take up to 3 weeks to arrive.
Other Books in Series
This is book number 8 in the Classic Erotica series.
Description
---
From the author:
Sheldon Lord began his career with CARLA, published by Harry Shorten's Midwood Books in 1958. Just about a year later he wrote CAMPUS TRAMP for William Hamling's Nightstand Books, for whom he'd morphed into Andrew Shaw. And young Mr. Lord's first book for yet a third publisher, Beacon, was APRIL NORTH.

Each publisher wanted more from the guy. Beacon's request for a second book was remarkably specific. They had a title in mind--COMMUNITY OF WOMEN--and a theme. Their notion was that no end of interesting and attractive couples lived in the suburbs, and five mornings a week virtually all of the husbands rode into Manhattan on the train, while their wives remained to do presumably wifely things at home. So during daytime hours, Monday through Friday, all of these wives constituted a...Community of Women. Which would make it a hotbed of, um, hot stuff.
Duh.

Well, it was an okay premise. I remember the occasion when it was delivered to me. I was in Buffalo, my ancestral home, on a brief visit. My agent called and recounted what Beacon had asked for. (That agent believed in keeping writers and publishers far apart. I did meet Harry Shorten once, at Harry's insistence, but never had any direct contact with anyone at Nightstand or Beacon.) "They need this as soon as possible," he added.

I fell for this, of course. I always did. About a year earlier I was living on West 69th Street when the same agent told me that Monarch Books had an unfinished novel, the first chapters and outline of which had been written by William Ard, who'd died at what even then seemed like an impossibly young age. (Looking back, I can't avoid the thought that the one thing poor Bill Ard got out of his early death was that he didn't have to finish that goddam book.) So my job was to complete the book, which would put a few dollars in my pocket and a few more in the near-empty purse of Ard's widow.

"And they need it right away..."
Well, the hell they did. But I bought the notion, moved into a hotel on the corner of Broadway and 69th. I went there every morning and went home every night, and i finished that awful book. Are might have made something of it, he was a pretty good writer, but all I can say for myself is the book got written, and published. And it's not as though Monarch was holding the press for it. They published it whenever they got around to it.

Same with Beacon and COMMUNITY OF WOMEN. Nobody there was holding his breath. But I believed what I was told, so I wrote it right there, sitting at a card table in the front room of my mother's house on Starin Avenue. I didn't know much about life in the suburbs, or about people who went to an office every morning and came home every night, but it wasn't hard to come up with characters and find ways for them to interact with one another. If I recall correctly (and how often does that happen?) it took me four or five days.

I guess Beacon liked it well enough. They wanted more, and published several more of Sheldon Lord's efforts. And then, when they wanted still more and I had neither time nor inclination to write them, my agent suggested we find writers to ghost the books under Sheldon Lord's name; I'd receive a fee off the top for my involvement, with the balance to go to the actual writers. Consequently there are more than a few Sheldon Lord titles--specifically most of the ones for Beacon--which I neither wrote nor read.
And so I've spared you a summary of COMMUNITY OF WOMEN, and gotten off the hook instead by taking this little trip down Memory Lane.