Celtic Patterns for Beginners: Make Your First Celtic Design in 7 Steps (Paperback)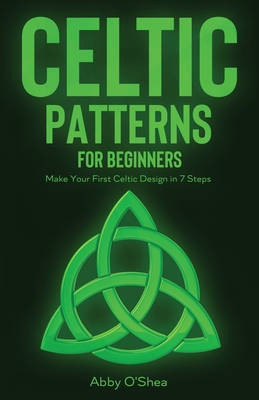 $19.99

In stock with our warehouse--usually ships within 1-7 days. May or may not be in stock at Room.
Description
---
If you want to make Celtic patterns from scratch then keep reading...
Do you want to make your own Celtic patterns, but don't know where to start?
Do you want to incorporate Celtic designs into other crafts you're passionate about?
If your answer is yes, then this book is for you.
This book is a beautiful in-depth guide to create and enhance your own crafting of Celtic art.
Inside this book you will discover:
The secret to making your first Celtic pattern in 7 steps
The biggest mistake beginners make when approaching their first Celtic design
One simple tip that will help you draw beautiful designs, even if you're not good at free hand drawing
The 8 most important entry points of Celtic geometry that are crucial for making accurate designs
The #1 secret to using partial designs and making them your own
The inside scoop on how complex Celtic knots are formed
How to adapt your designs for wood carving and wood burning projects
The secret method of the Celtic scribes - and how to take advantage of it in your art
The sacred background and history of Celtic art
This book also makes a great gift for artists and crafters
Here are the answers to some questions you might have about this book:
Q: I have never worked on Celtic designs before, can I use this book to get started?
A: Yes. The primary goal of this book, is to help a complete beginner (like you) make their first pattern after reading this book.
This book contains detailed steps of how designs are constructed by compass and straightedge so that the interested reader can reconstruct images geometrically for him- or herself.
Q: I want to enhance my crafts projects (such as oil paintings and wood carvings) by simply adapting whole or partial sections of Celtic designs. Can I do that with this book?
A: Absolutely. In fact, there is an entire section on adapting designs into wood carving and wood burning projects inside this book.
Q: Does this book have color or b/w images?
A: The book has a wonderful variety of Celtic and Norse graphic designs. The designs are clearly printed in black and white so they are easy to copy and to scale up or down.
Every day that you delay is another day you miss out on taking advantage of beautiful Celtic designs, and adding a fancy look to clothing, furniture, fantasy weapons, or even buildings.
Take action now.
Scroll up and add this book to your cart