Beatboxing: How Hip-Hop Changed the Fight Game (Paperback)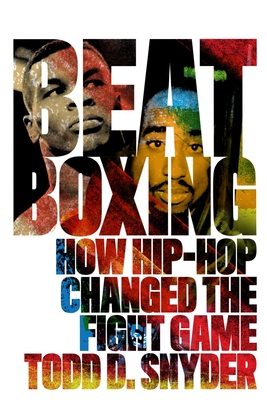 $18.99

In stock with our warehouse--usually ships within 1-7 days. May or may not be in stock at Room.
Description
---
"The masterful art of chess, Kung-fu sword play, and the sweet science of boxing are all hip-hop expressions that connect us universally. Beatboxing tells the story. It's razor sharp."-Masta Killa, Wu-Tang Clan
"I love how Todd Snyder's brain works. Like him, I love hip hop, and I love boxing. But I've never seen someone tie them together so well, detailing their shared history, the way each impacted the other and the personalities involved.
Beatboxing
is written with such tethering, with that kind of impact and insight. It might be my favorite sports book--since the last one Snyder wrote." --Greg Bishop,
Sports Illustrated
Step into a world of rap moguls turned fight promoters, boxers turned rappers, and rappers turned boxers. From Mike Tyson to Tupac, from Roy Jones Jr. to J Prince, explore how a cultural collision forever altered the relationship between music, race, sports, and politics.
Daryl McDonald of Run-DMC once said that the rhyme
Float like a butterfly, sting like a bee The hands can't hit what the eyes can't see
was hip-hop's most famous lyric. Muhammad Ali's poetic brilliance and swagger--ignited by hype man Bundini Brown--gave hip-hop artists the template from which they forged their identities and performed their art. Hip-hop's impact on boxing, on the other hand, has not been explored. Until now. In
Beatboxing
, Todd Snyder uncovers the unique connection between hip-hop and the sweet science, tracing a grassroots cultural movement from its origins in the South Bronx to its explosion across the globe and ultimately into the charged environment of the prize ring. Featuring interviews with champion fighters and music legends, this is the definitive book about an enduring phenomenon and is a must-read for boxing and hip-hop fans alike.