To Feel the Music: A Songwriter's Mission to Save High-Quality Audio (Hardcover)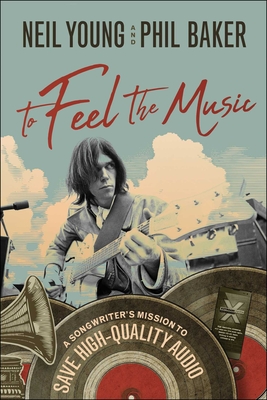 $24.95
This item is out of stock with our warehouse. Some recently published books may be in stock @ Room. Email to check.
Description
---
Neil Young, who removed his music from Spotify to protest COVID-19 vaccine misinformation, previously took on the music industry so that fans could hear his music—all music—the way it was meant to be heard.

Today, most of the music we hear is com-pressed to a fraction of its original sound, while analog masterpieces are turning to dust in record company vaults. As these record-ings disappear, music fans aren't just losing acollection of notes. We're losing spaciousness, breadth of the sound field, and the ability to hear and feel a ping of a triangle or a pluckof a guitar string, each with its own reso-nance and harmonics that slowly trail off into silence. 

The result is music that is robbed of its original quality—muddy and flat in sound compared to the rich, warm sound artists hear in the studio. It doesn't have to be this way, but the record and technology companies have incorrectly assumed that most listeners are satisfied with these low-quality tracks.

Neil Young is challenging the assault on audio quality—and working to free music lovers from the flat and lifeless status quo.

To Feel the Music is the true story of his quest to bring high-quality audio back to music lovers—the most important undertaking of his career. It's an unprecedented look inside the successes and setbacks of creating the Pono player, the fights and negotiations with record companies to preserve master-pieces for the future, and Neil's unrelenting determination to make musical art available to everyone. It's a story that shows how much more there is to music than meets the ear.

Neil's efforts to bring quality audio to his fans garnered media attention when his Kickstarter campaign for his Pono player—a revolutionary music player that would combine the highest quality possible with the portability, simplicity and affordability modern listeners crave—became the third-most successful Kickstarter campaign in the website's history. It had raised more than $6M in pledges in 40 days. Encouraged by the enthusiastic response, Neil still had a long road ahead, and his Pono music player would not have the commercial success he'd imagined. But he remained committed to his mission, and faced with the rise of streaming services that used even lower quality audio, he was determined to rise to the challenge.

An eye-opening read for all fans of Neil Young and all fans of great music, as well as readers interested in going behind the scenes of product creation, To Feel the Music has an inspiring story at its heart: One determined artist with a groundbreaking vision and the absolute refusal to give up, despite setbacks, naysayers, and skeptics.
About the Author
---
Neil Young is one of the world's most famous musicians, with millions of followers from around the world. He's a Canadian singer-songwriter, musician, producer, director and screenwriter. His music career began in the 1960s, when he formed Buffalo Springfield with Stephen Stills. He joined Crosby, Stills & Nash, and has recorded solo albums with his backing bands Crazy Horse and Promise of the Real. Young has recorded a steady stream of studio and live albums, now at 40. Young also plays piano, guitar, and harmonica on many of his albums, which frequently combine folk, rock, country, and other musical styles. Young has received numerous Grammy and Juno awards. He's a member of the Rock and Roll Hall of Fame and is listed as the 34th greatest rock 'n roll artist in Rolling Stone's list of the 100 greatest artists of all time. He continues to tour and record new albums. Young has also directed motion pictures and has written two previous books, his autobiography Waging Heavy Peace: A Hippie Dream in 2012 and Special Deluxe: A Memoir of Life & Cars in 2014. 

Young has appeared as a guest on many major network shows including The Late Show with Stephen Colbert, The Tonight Show Starring Jimmy Fallon, The Late Show with David Letterman, Saturday Night Live, The Big Interview With Dan Rather, and more. He continues to enjoy a huge following, as exemplified by the recent introduction of his new online archives, with more than 300,000 signups and 8 million page views in the first week. Young is an environmentalist and outspoken advocate for the welfare of small farmers, having cofounded the benefit concert Farm Aid with Willie Nelson. Young also helped found The Bridge School, an educational organization for children with severe verbal and physical disabilities. 

Phil Baker has a long career developing consumer electronic products, as well as working as a technology journalist and author. He has developed many iconic products for Polaroid, Apple, Seiko, Barnes & Noble, Pono, and others. Baker is the author of From Concept to Consumer and has written award winning columns for the San Diego Transcript, Recode, and others. Phil holds more than 30 patents and was Ernst and Young Entrepreneur of the Year for San Diego. Phil and Neil began working together to develop the Pono Music Player in 2012 and continue to work together on other projects, including the recently introduced Neil Young Archives, an online archive of Young's lifetime of works.
Praise For…
---
"An intriguing account of Young's determination to provide world-class audio to consumers . . . In print as in song, Young's passion will not be quenched."
—USA Today 

"Part manifesto and part how-not-to manual . . . Just as when he's taken up various ecological mantles over the years, Young is fighting large and historical forces."
—WIRED

"The success of To Feel the Music is in the passion Young brings to his mission to save audio. His reasons are just. His dedication bleeds from the page. And you get the feeling, despite any setbacks, he will not stop until we're all listening to music again the way it was supposed to be heard."
—Under the Radar

"To Feel the Music is a fascinating tale about countless intersections: of artistry and technology, of creativity and commerce, of entrepreneurs and organizers, of the individual and the team. It's heartbreaking on some fronts and inspiring in many others. I will never listen to music in quite the same way after reading this book, nor ever again take for granted the ingenuity behind the high-tech devices amid which we live."

—James Fallows, national correspondent, The Atlantic

 "One of the greatest musicians of all time, Neil Young knows the effort artists put into their work so that their audiences can feel the music. In a very easy-to-understand way, Neil explains how, unlike for photographs or television, each generation of digital technology has further degraded sound quality. Neil and collaborator Phil Baker lay out concrete solutions to restore music fidelity without sacrificing listener convenience in this fascinating read brimming with passion."

—Dan Hesse, retired CEO, Sprint

"This book provides backstage access to a fascinating story about the intersection of art, technology, and business. Young and Baker's passion for their respective crafts is tangible on every page."

—Harry McCracken, technology editor, Fast Company

"Neil Young is not only a rock star in the music industry. He has emerged as a rock star in championing and challenging the tech industry to deliver the kind of sound quality that he and other musicians want their audiences to experience as they do when they record their music . . . The book is a call to action for the tech industry to strive to deliver the best audio quality possible, so that those who listen to Neil Young's songs and music, as well as those from other artists, experience exactly what the artists hear when they create their music."

—Tim Bajarin, president, Creative Strategies, Inc.

"The alchemy of product development is rarely shared like this, from a music legend (and it turns out, an enlightened CEO) and a tech veteran, with refreshing candor about the highs and lows of bringing together people, materials, and energy to deliver sound as intended, straight to the soul."

—Louis Kim, vice president, Hewlett-Packard