A Swear Word Coloring Book for Adults: Sweary AF: F*ckity F*ck F*ck F*ck (Paperback)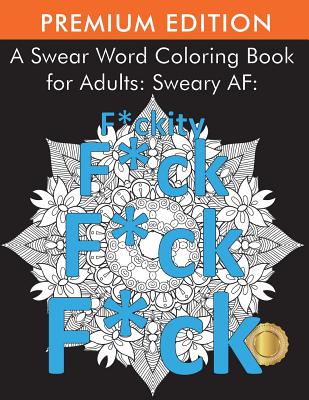 $5.00

Usually Ships in 2-7 Days
All sales of this book are final--it is print on demand and may take up to 3 weeks to arrive.
Description
---
Sometimes you just need to chill the f* out. New intricate and meditative zentagle designs that feature classic and delightfully unique sweary words and mantras to help you relax, calm down and let go of all your stress and anxiety.
TAGS: adult coloring books; adult coloring book; coloring books for adults relaxation; coloring books for adults; adult coloring books best sellers; coloring books; coloring book for adults; christmas coloring books for adults; animal coloring book for adults; coloring book; christmas adult coloring books; coloring books adult; fantasy coloring books for adults; disney adult coloring books; adult christmas coloring books; spiral adult coloring book midnight; adult coloring books animals; mandala coloring book; adult coloring; gel pen coloring books for kids; adult coloring books christmas; stress coloring book; beach adult coloring books; architecture books; halloween adult coloring books; adult coloring book mandala; scripture coloring book for adults; adult coloring pencils; margaritaville adult coloring book; bennett klein adult coloring books; johanna basford coloring books; adult coloring books prime; adult mandalas coloring books; adult coloring books'; adult coloring books funny; coloring books for teens; sweary coloring book; adult color by number coloring books; adult fantasy coloring books; christmas adult coloring book; adult coloring books cats; tattoo adult coloring books; coloring books adults; mandala adult coloring books; adult adult coloring books; adult coloring book sets; small adult coloring books; funny adult coloring books; new adult coloring books; adult beach coloring books; adult coloring books beach; adult coloring book inspirational; profanity coloring book; magical delights coloring book; mandala coloring books for adults; adult motivational coloring books; adult coloring books inspirational; adult coloring books fish; adult coloring books for men; halloween coloring book; horse coloring book; cursing coloring books; colored pencils for adult coloring books; halloween coloring books for adults; mandala adult coloring book; adult funny coloring books; spiral bound adult coloring books; grayscale adult coloring book; christian adult coloring books; mermaid adult coloring books; adults coloring book; skull coloring books for adults; butterfly adult coloring books; molly harrison adult coloring books; adult coloring books swear words; adult coloring books words; sloth adult coloring book; cursing coloring book; adult flowers coloring books; adult coloring books mandalas; calming coloring books for adults; inspirational coloring books for adults; adult christian coloring books;