Professional Cheerleading Audition Prep Workbook: A Companion Guide to the Audition Secrets Book (Paperback)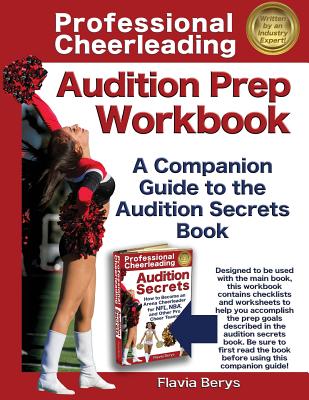 $8.97

Usually Ships in 2-7 Days
All sales of this book are final--it is print on demand and may take up to 2 weeks to arrive.
Description
---
This workbook is a companion guide to the main book titled Professional Cheerleading Audition Secrets: How To Become an Arena Cheerleader for NFL(R), NBA(R), and Other Pro Cheer Teams. This companion workbook should not be used alone, but only in conjunction with the main book. It is a step-by-step spiral-bound workbook that you can use to write down goals, ideas, and to track your progress. It has the checklists and worksheets you should use on your preparation journey. Also available at www.ArenaCheerleader.com.
About the Author
---
Flavia Berys is an author, attorney, real estate broker, and business consultant based out of Southern California. She works in the sports entertainment field as a consultant to pro-level entertainment & cheerleading squads. She is the author of Professional Cheerleading Audition Secrets: How To Become an Arena Cheerleader for NFL(R), NBA(R), and Other Pro Cheer Teams (Available on Amazon at http: //amzn.to/VOAEmg). She is an experienced judge and organizer for professional cheerleading auditions worldwide. The Wall Street Journal, Fox 6 San Diego, KFMB Channel 8 San Diego, Muscle & Fitness Magazine, Woman's Digest, The La Jolla Light and other media have featured stories about Flavia's involvement in the world of dance and cheerleading. Her 20-year involvement in the sport includes three years as a UCLA Cheerleader, five years as an instructor for the Universal Cheerleaders Association (UCA), and two years cheering professionally for the NFL as a San Diego Charger Girl before taking her cheerleading career behind the scenes. Flavia coordinated the promotional appearances and transportation logistics for the 2002 and 2003 NFL Pro Bowl cheerleading programs in Honolulu, Hawaii, where she had the opportunity to meet and work with cheerleaders from almost every NFL football team as an Associate Producer for e2k Sports. She was also hired by e2k sports to direct the San Diego Sockers Performance Team, a professional co-ed stunt squad, for two seasons. Flavia also directed and choreographed the halftime shows for the 2000, 2001, and 2002 San Diego Jr. Charger Girl Programs, and organized and administered a series of youth cheerleading clinics on the island of Guam. She was contracted by e2k Sports to travel internationally to Prague, Czech Republic, where she directed Eastern Europe's first professional cheerleading team, the Eurotel Cheerleaders, which was later renamed the Chilli Cheerleaders. She serves as the executive advisor to professional cheerleading teams such as the San Diego Enforcer Girls in the NPSFL football league. She has worked as an expert witness for trials involving cheerleading negligence litigation, and is the author of other upcoming cheerleading books, Pom Poms in Prague: A True Story and Professional Cheerleading: A Director's Guide to Starting, Managing, and Marketing an Arena Cheerleader Dance Team. In her spare time, Flavia enjoys horse polo, rock climbing, yoga, aerial circus arts, motorcycles, reading, and dance.