The Negro Bible - The Slave Bible: Select Parts of the Holy Bible, Selected for the use of the Negro Slaves, in the British West-India Islands (Paperback)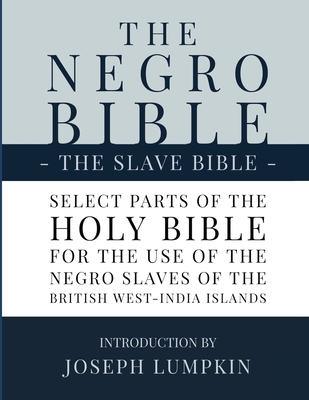 $44.95

In stock with our warehouse--usually ships within 1-7 days. May or may not be in stock at Room.
All sales of this book are final--it is print on demand and may take up to 3 weeks to arrive.
Description
---
This is an Introduction, History, and Photocopy of the Slave Bible. - There was an uneasy tension as the slave owners sought to maintain control and keep the slaves working calmly and the abolitionists began to question the moral cost of slavery. The abolitionist movement was growing and for the first time, the souls of the slaves were being considered. As they prepared to compile a special Bible for slaves in the West Indies, the missionaries agreed to uplift the Africans without teaching them anything that could incite rebellion. Throughout history, the Bible has encouraged us to fight against our enslavement to sin, Hell, death, and the grave. But it has also encouraged us to fight against our fellow man who might choose to take our freedom and use us for his own purpose. Just as Egypt enslaved the Jews and used them for labor to build their empire, so were the slaves of Africa used to build the empire of the British West Indies and the United States. Just as Moses stood against the Egyptians and led the children of Israel out of slavery and bondage, so are we encouraged to stand up against the cruel bonds of slavery and fight for our freedom and the freedom of fellow man. The clarion call for human freedom is found in many forms and in various stories throughout the Bible, but all of these ideals were stripped from and carved out of the Slave Bible. The Slave Bible, also called The Negro Bible, is one of the most powerful examples ever witnessed of manipulation using a controlled narrative. The Christian faith, a religion one-third of the world relied on to bring comfort, spiritual rest, peace, and salvation was the narrative being controlled, making the Slave Bible the ultimate propaganda tool and the greatest lie ever told.