Cosmic C*nt Tarot: 78 cards and 112-page book (Mixed media product)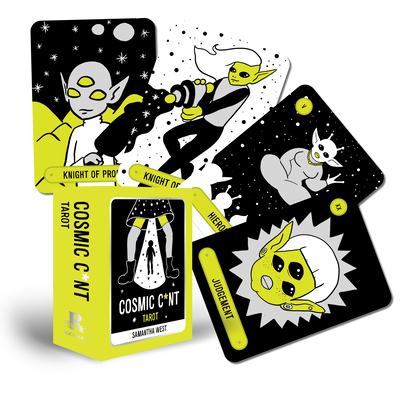 $19.95

In stock with our warehouse--usually ships within 1-7 days. May or may not be in stock at Room.
Description
---
The Cosmic C*nt Tarot is a tongue-in-cheek, fun, pocket-sized tarot deck designed for the alien-loving reader.

Full of alien probes, ray guns, test tubes, and UFOs, this deck follows the traditional 78-card structure, with some small, mischievous changes. The suits have been swapped out to include ray guns, specimens, disks, and probes.

In case it's not abundantly obvious, this deck is not for the faint of heart. If you clutch your pearls at the sight of aliens wielding phallic probes, this may not be the deck for you. However, if you possess a cosmic c*nt (one capable of abducting farmers from their land) and love all things ray gun and UFO, this deck will help you embrace your power and delve into your own psyche.
About the Author
---
Samantha West was born and raised in New Jersey, USA. She grew up with a love of art and creating things with her hands. Her mother encouraged her to pursue any avenue that interested her, and that led to her experimenting with all forms of art. She was gifted her first tarot deck when she was 15, and her journey as a witch grew from there. Artwork became interwoven with her spirituality.

As she got older, she received a Master's degree in Interior Architecture, but always felt called back to more free forms of artwork. She found her calling when she began working on her first tarot deck in 2018, and has continued creating and helping others bring their visions to life ever since. She is now a full-time illustrator who teaches a course on tarot deck creation. When she isn't drawing, she can be found knitting or making candles with her husband and baby girl. Sam is the creator of the Macabre Tarot and The Rainbow Moon Tarot.