The Big Therapy Workbook for Teens: ADHD, Self-Esteem, and Dialectical Behavior Therapy. Rebuild your Life and Stay Focus on Success (Paperback)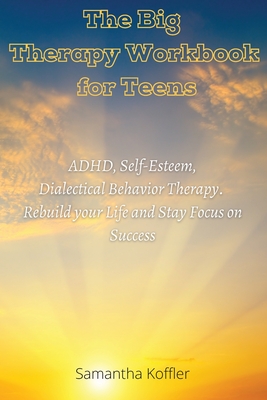 $20.99

Usually Ships in 2-7 Days
Description
---
★ 55% OFF for Bookstores NOW at $ 23.97 Instead of $ 33.97 ★
Take control of your life and enjoy it like never
The great utility of this 3-in-1 bundle is that Samantha Koffler has collected in one place sincere, true, and practical advice that has helped hundreds of people transform the way they look at the world.
Your Customers Will Never Stop to Use this book
Everyone can get emotional sometimes, so we need to learn a better set of skills to use those emotions to our advantage.
Alter your behaviors and actions to improve your emotional experience.
Just as the health of the body is a result or impact of many related causes, so is it with self-confidence.
This collection will also help you improve your trajectories and long-term relationships and give you the possibility to achieve the goals you have set yourself.
Here is a quick peek of what you find inside this book:
Book 1 DBT:
The Basic Of Dialect Behavior Therapy
How Dialect Behavior Therapy Works
Fundamental DBT Skills
Interpersonal Effectiveness Skills
Emotion Regulation Skills
Mindfulness Skills
And much more
Book 2 ADHD:
The Truth About ADHD
ADHD In School
Defining Yourself By What You Can Do
Finding A Good Match For Your Skills
How Do You Use Your Time
Daily Planning
Exercises
Ways To Help You Make Good Choice In School
And much more
Book 3 SELF-ESTEEM:
What Healthy Self-Esteem Means.
What You Stand To Gain From Healthy Self-Esteem.
Common Signs Of Low Self-Esteem.
Boosting Your Self-Confidence In Steps.
Who You Are For Your Family.
Overcoming Negative Thinking.
And much more
Are you ready to get your Customers Addicted to this Book? If yes, BUY NOW this complete guide