The BBC National Short Story Award 2020 (Paperback)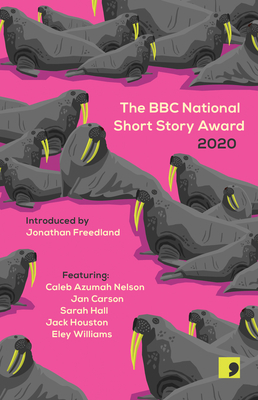 $12.95
This item is out of stock with our warehouse. Some recently published books may be in stock @ Room. Email to check.
Description
---
A young woman's birthday party is disturbed by the vision of a homeless man sleeping under an arrangement of mocking fruit...

A late-night text conversation goes awry when a forwarded link to a live feed of gathering walruses doesn't have its intended effect...

A woman hopes a pending announcement to her in-laws will finally give her husband the attention he craves...

The stories shortlisted for the 2020 BBC National Short Story Award with Cambridge University demonstrate how a single moment might become momentous; how a small encounter or exchange can irreversibly change the way others see you, or the way you see yourself. From the struggles of
two women trapped by joblessness and addiction, to the hopes of two teenage brothers embarking on a new life without the protection of their parents, these stories show us what happens when we fail to relate to each other as well as the refuge that belonging affords.
About the Author
---
Eley Williams lectures at Royal Holloway, University of London. Her short story collection Attrib. and Other Stories (Influx Press) won the James Tait Black Prize and the Republic of Consciousness Prize. The Liar's Dictionary (William Heinemann) is her debut novel and is published this year. Caleb Azumah Nelson is a 26-year-old British-Ghanaian writer and photographer living in South East London. His writing has been published in Litro and is forthcoming in The White Review. He was recently shortlisted for the Palm Photo Prize and won the People's Choice prize. Open Water, forthcoming with Penguin Viking (UK) and Grove Atlantic (US) is his first novel. Jonathan Saul Freedland is a British journalist, who writes a weekly column for The Guardian. He presents BBC Radio 4's contemporary history series The Long View. Freedland also writes thrillers, mainly under the pseudonym Sam Bourne. Jack Houston is a writer from London. His poetry has been published in a wide range of literary magazines and in a few anthologies, been shortlisted for the Basil Bunting and Keats-Shelley Prizes and taken second prize in the 2017 Poetry London Competition. He works within Hackney's Libraries where he has held a range of poetry events, most recently an online Lockdown Poetry Workshop. He also teaches a poetry writing course for a local chapter of Age UK. Jan Carson is a writer and community arts facilitator based in East Belfast. Her debut novel Malcolm Orange Disappears and short story collection, Children's Children, were published by Liberties Press, Dublin. A micro-fiction collection, Postcard Stories was published by the Emma Press in 2017. A second volume is forthcoming in August 2020. Her novel The Fire Starters was published by Doubleday in April 2019 and subsequently won the EU Prize for Literature for Ireland 2019, the Blackwell's Books Kitschies Prize for speculative fiction and was shortlisted for the inaugural Dalkey Book Prize 20 Sarah Hall was born in Cumbria in 1974. Twice nominated for the Man Booker Prize, she is the award-winning author of five novels and three short-story collections – The Beautiful Indifference, which won the Edge Hill and Portico prizes, Madame Zero, shortlisted for the Edge Hill Prize and winner of the East Anglian Book Award, and Sudden Traveller (2019). She is currently the only author to be three times shortlisted for the BBC National Short Story Award, which she won in 2013 with 'Mrs Fox'.