Settling the World: Selected Stories (Paperback)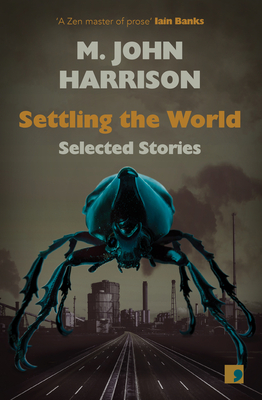 $16.95

In stock with our warehouse--usually ships within 1-7 days. May or may not be in stock at Room.
Description
---
Throughout his career, M. John Harrison's writing has defied categorisation, building worlds both unreal and all-too real, overlapping and interlocking with each other. His stories are replete with fissures and portals into parallel dimensions, unidentified countries and lost lands. But more important than the places they point to are the obsessions that drive the people who so believe in them, characters who spend their lives hunting for, and haunted by, clues and maps that speak to the possibility of somewhere else. This selection of stories, drawn from 50 years of writing, bears witness to that desire for difference: whether following backstreet occultists, amateur philosophers, down-and-outs or refugees, we see our relationship with 'the other' in microscopic detail, and share in Harrison's rejection of the idea that the world, or our understanding of it, could ever be settled.
About the Author
---
M. John Harrison is the author of eleven novels (including In Viriconium, The Course of the Heart and Light), as well as four previous short story collections, two graphic novels, and collaborations with Jane Johnson, writing as Gabriel King. He won the Boardman Tasker Award for Climbers (1989), the James Tiptree Jr Award for Light (2002), and the Arthur C. Clarke Award for Nova Swing (2007). He reviews fiction for The Guardian and the Times Literary Supplement, and lives in Shropshire.
Praise For…
---
'The exactness, acute self-consciousness and vigilant self-restraint of Harrison's writing give it piercing authenticity.' —Ursula K. Le Guin

The wit and effortless elegance of the writing are impeccable.' —Ursula K Le Guin, The Guardian

 

'One of the best writers of fiction currently at work in English.' —Robert Macfarlane

 

'[A] quiet giant of British writing... extraordinarily flexible prose. It's restrained and luminous' —The Daily Telegraph

'In the far-distant future, when hyper-intelligent scorpions are looking back on the culture of the upright apes that once cluttered this planet, I think they will be frankly bemused that Kazuo Ishiguro won the Nobel Prize for Literature, that Ian McEwan won the Man Booker Prize, that Donna Tartt won the Pulitzer and yet all the time M John Harrison was staring them in the face.' —Stuart Kelly, The Scotsman

'Harrison draws out his ghostly characters from behind the bones of the plot, allowing their stories to be emotional, poignant and disquietingly possible...' —Lamorna Ash, The Times Literary Supplement (£)

'His novels have been likened to J.G. Ballard's, but these stories are more like satirical set pieces than brooding psycho-fictions: genial and generous, finding wry mirth in absurdity.' —Houman Barekat, The Spectator

'A new book by M. John Harrison in an event. The recurring idea in many of the stories is the need for escape, and the impossibility of it... In other hands, this might come across as cynical or hectoring, but Harrison is far too subtle a writer for that. There is genuine sorrow here... and genuine anger too...' —The New Scientist