We Will Not Cancel Us: And Other Dreams of Transformative Justice (Paperback)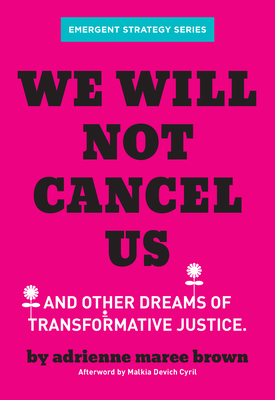 $10.00

In stock with our warehouse--usually ships within 1-7 days. May or may not be in stock at Room.
Staff Reviews
---
Concise and accessible, this small book is not only about the only thing I'm capable of reading in the brain-breaking year of 2020 but it is also a generous offering from adrienne maree brown to those in movement work. This little book is incomplete, and amb recognizes that, but the urgency of getting this information into the world as movements are unfolding and buckling across the globe was more important than completeness. I felt more capable of being in movement spaces and in conflict with comrades after reading this book. I felt more equipped than I had when I picked it up. I immediately bought three copies for three separate friends and mailed them next day. Is this book perfect? Nope. Is it imperative? Sure thing. - MISIAN, Room Bookseller — From Seasons Readings 2020 - Staff Picks!
Description
---
Cancel culture addresses real harm...and sometimes causes more. It's time to think this through.
"Cancel" or "call-out" culture is a source of much tension and debate in American society. The infamous Harper's Letter," signed by public intellectuals of both the left and right, sought to settle the matter and only caused greater division. Originating as a way for marginalized and disempowered people to address harm and take down powerful abusers, often with the help of social media, call outs are seen by some as having gone too far. But what is "too far" when you're talking about imbalances of power and patterns of harm? And what happens when people in social justice movements direct their righteous anger inward at one another?
In We Will Not Cancel Us, movement mediator adrienne maree brown reframes the discussion for us, in a way that points to possible paths beyond this impasse. Most critiques of cancel culture come from outside the milieus that produce it, sometimes even from from its targets. However, brown explores the question from a Black, queer, and feminist viewpoint that gently asks, how well does this practice serve us? Does it prefigure the sort of world we want to live in? And, if it doesn't, how do we seek accountability and redress for harm in ways that reflect our values?
With an Afterword by Malkia Devich-Cyril.
About the Author
---
adrienne maree brown is the author of Emergent Strategy: Shaping Change, Changing Worlds; Pleasure Activism: The Politics of Feeling Good; co-editor of Octavia's Brood: Science Fiction from Social Justice Movements; cohost of How to Survive the End of the World and Octavia's Parables; and founder of the Emergent Strategy Ideation Institute.