Japanese Myths & Legends: Tales of Heroes, Gods & Monsters (Flame Tree Collector's Editions) (Hardcover)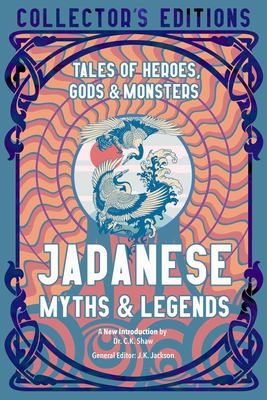 $14.99
This item is out of stock with our warehouse. Some recently published books may be in stock @ Room. Email to check.
Description
---
Beautiful edition with a new introduction to the heroes and bittersweet romances of ancient Japanese tales, highlighting the origins of modern fiction in myth and fable.

Gorgeous Collector's Edition. Legends of the Sea, Bells, Mirrors and Tea, Japanese mythology is delightful and enigmatic, full of spirits, gods and legendary creatures. It draws on Buddhist and Shinto traditions to explain the nature of the world of the island of Japan, the mystical Mount Fuji and the heavenly status of the long line of emperors. The warrior class of the imperial court, and the natural spirits of the countryside represent parallel and interdependent aspects of Japanese society, explored through ancient legend and folklore.

Flame Tree Collector's Editions present the foundations of speculative fiction, authors, myths and tales without which the imaginative literature of the twentieth century would not exist, bringing the best, most influential and most fascinating works into a striking and collectable library. Each book features a new introduction and a Glossary of Terms.
About the Author
---
Jun'ichi Isomae is Professor at the International Research Center for Japanese Studies, Kyoto. He specializes in Religious Studies and Critical Theory, including the concept of the divine. His books include Japanese Mythology: Hermeneutics on Scripture (2010) and Religious Discourse in Modern Japan: Religion, State, and Shintō (2014).

Hiroshi Araki is a Professor at the International Research Center for Japanese Studies, Kyoto, Japan. His books include Konjaku Monogatarishū: Tracing its Composition and Representation of the World Outside Japan (2021), Kojidan, Zoku, Kojidan (2005) and Projecting Classicism: The Futurology of Japanese Classics (2020).

Gouranga Charan Pradhan is a Research Fellow at Nichibunken, Kyoto, where he researches the global circulation of Japanese classical literature and cultural-intellectual interactions abroad with a focus on the late-nineteenth to the early-twentieth century. His first monograph Sekai Bungaku toshite no Hōjōki is scheduled for February 2022.