Mies (Hardcover)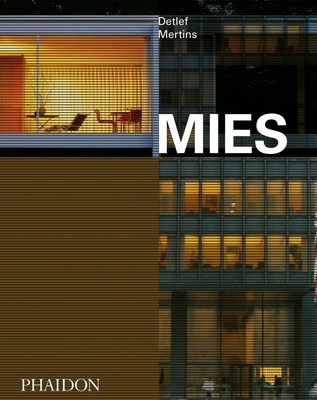 $150.00
This item is out of stock with our warehouse. Some recently published books may be in stock @ Room. Email to check.
Description
---
The classic and most definitive monograph ever published on iconic architect Mies van der Rohe.
This is the most readable, beautiful, and comprehensive book ever published on one of the twentieth century's most influential architects. Known for the beauty and purity of his work, Ludwig Mies van der Rohe built remarkable houses, skyscrapers, museums, and multibuilding campuses. The clarity of his architecture belies the diversity of Mies's interests, which included philosophy and science as well as design, and Mertin's rigorous and accessible text gives the reader a clear description of all of the most important buildings as well as the intellectual contexts for their design.
About the Author
---
The American architectural theorist Detlef Mertins made lasting contributions to the theory and history of modernism in architecture, art, philosophy, and urbanism. He taught widely, including professorships at the universities of Pennsylvania, Toronto, Columbia, Harvard, Princeton, and Rice. During his career, he published numerous books and articles to great acclaim.
Praise For…
---
"Puts Mies's work back at the center of the architectural debate."—Barry Bergdoll, Acting Chief Curator of Architecture and Design at MoMA
"A formidable commitment to understanding both the man and the work."—John Pawson
"By providing a rich texture of details, Professor Mertins succeeds in making his book an enlightening and enjoyable journey for both serious students of architecture and design as well as those interested in learning more about the creative genius [Mies van der Rohe]."—Maurice D. Parrish, Executive Director of the Farnsworth House
"Do we need another book on the master of universal space, heir to the Platonic ideal, and pursuer of the perfectly understated environment? For those interested in the intellectual context of the work — in Mies as philosopher–architect — the answer is yes."— Library Journal, Starred Review
"A hulking new monograph."—The Wall Street Journal
"Designers and design buffs seeking to understand this giant better make room on their shelves for Mies."—Interior Design
"If you've been coveting the definitive guide to one of the world's most celebrated architects, this epic volume is worth the splurge."—The New York Post
"... A fascinating survey of the architect's intellectual concerns: questions of the body and soul, technology and nature, and the individual and the community. Complemented by over 700 photographs, sketches, and architectural plans, this text ranks highly in the Mies van der Rohe corpus."—Publishers Weekly, Starred Review
"There is no lack of writing on Mies van der Rohe... However, Detlef Mertin's new book ought to make the list of the handful of exceptional, definitive volumes... Stunning photography, impeccable historical research and an obvious ear for philosophy comprise each of the six sections of its 528 pages, creating a book that is an extraordinary, beautiful intellectual journey and a rethinking of the function of the political in architecture."—Identity
"A monumental monograph on the legendary architect sheds new light on the godfather of modernism."—Metropolis
"What marks out Mertins's study is its unremitting focus on the ideas that shaped Mies's designs, and on how this son of an Aachen stonemason came to create a form of architecture that spoke a universal language and gave a defining three–dimensional form to a self–consciously modern era."—The Telegraph
"A new generation is discovering that Mies's avocation of craft and quality are key to the architecture of simplicity. Stuffed full of photographs, plans, and archival material, [Mies] is the new benchmark."—Wallpaper
"Mertins' hefty and lavishly illustrated volume is ambitiously comprehensive... It challenges us to question all previous assumptions we may have entertained about the architect... One of the greatest virtues of Mertins' Mies, one which distinguishes this work from the many monographic studies of the architect, is a deeply ingrained historiographic consciousness... The author's thorough knowledge [is not used] towards recycling the same arguments, but as the foundational material to contribute something new... Mertins' book asks us to reconsider the very genre of the architectural monograph."—Architectural Review