The Barn: The Lives, Landscape and Lost Ways of an Old Yorkshire Farm (Paperback)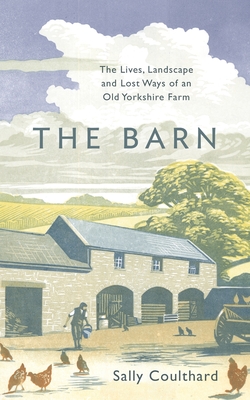 Description
---
A revelatory uncovering of a vanished agricultural way of life by nature writer Sally Coulthard.
'Sally Coulthard's beautiful books have shown us the beauty and rich history of everyday things' Country Walking Magazine
'A gem of a book' Country Smallholding
'Engaging and filled with the gentle humour and fascinating facts that are an integral part of Coulthard's written style' Get History
Across the muddy foldyard from Sally Coulthard's farmhouse stands a large and ancient stone barn. When she discovered a set of witches' marks on one of its internal walls, scratched into the plaster to ward off evil spirits and bring good luck, Sally began to wonder about the lives of the people who had lived and worked around the Barn in times past; the forgotten inhabitants of a North Yorkshire agricultural landscape where superstition, religion, nature, work and home life had co-existed for centuries in rough-and-ready harmony.
In The Barn, Sally explores a hidden corner of rural Britain that has witnessed remarkable changes. From the eighteenth-century Enclosures to the era of the Second World War, the fortunes of the Barn, the farm and its occupants have been blown, like a leaf in a gale, by the unstoppable forces of new agriculture and industry. Seismic shifts in almost every area of society – education, technology, food and farming, transport, superstition and the Church – all were played out here in miniature against a backdrop of scattered limestone villages and the softly rolling Howardian Hills. From sweeping political changes to domestic dramas and small victories, this tiny, mellow corner of England watched it all unfold.
Both intimate history of a family, a house and its hinterland, and wider investigation of shifting patterns of work, leisure and domestic life across two-and-a half centuries of English history, The Barn is an affectionate celebration of the enduring charm of rural North Yorkshire and a revelatory investigation of a lost agricultural way of life.
About the Author
---
Bestselling author Sally Coulthard has spent the past two decades writing about nature, history and craft. Many of her books delve into the traditions of rural life – from artisans to agriculture – the people, plants and creatures who make the countryside tick. Her books include Floriography: The Myths, Magic, and Language of Flowers, 50 Ways to Help Save the Bees, How to Build a Shed. She lives on a North Yorkshire smallholding with her family and animals.
Praise For…
---
"Northern Yorkshire advocate for rural living, designer, and author, Coulthard has produced an addictively readable book in which she focuses on one of our oldest domestic animals: the sheep."  ―Booklist on Follow the Flock
  "[Sally] recounts how biophilia, the idea that humans are viscerally wired to feel a communion with the natural world, has shifted from a hypothesis espoused by the biologist Edward O. Wilson and others to the emergence of urban beekeeping, increasingly diverse city gardens and wild ideas for residences and workplaces."―New York Times on Biophilia

"Coulthard explores ways to harmonize home and the natural word. She covers proper lighting, temperature, and airflow; decorating with natural materials; beneficial colors and patterns, and more."―Publishers Weekly on Biophilia