Stone Men: The Palestinians Who Built Israel (Paperback)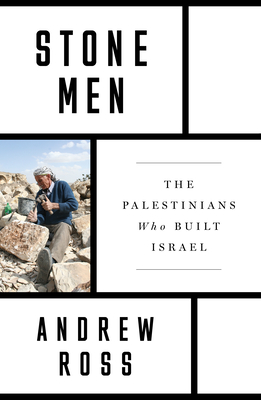 $19.95
This item is out of stock with our warehouse. Some recently published books may be in stock @ Room. Email to check.
Description
---
Winner of the 2019 Palestine Book Awards

"They demolish our houses while we build theirs."
This is how a Palestinian stonemason, in line at a checkpoint outside a Jerusalem suburb, described his life to Andrew Ross. Palestinian "stone men," using some of the best-quality limestone deposits in the world and drawing on generations of artisanal knowledge, have built almost every state in the Middle East except one of their own. Today the business of quarrying, cutting, fabricating, and dressing is the Occupied Territories' largest private employer and generator of revenue, and supplies the construction industry in Israel, along with other countries in the region and overseas.
Ross's engrossing, surprising, and gracefully written story of this fascinating ancient trade shows how the stones of historic Palestine, and Palestinian labor, have been used to build the state of Israel—in the process, constructing "facts on the ground"—even while the industry is central to Palestinians' own efforts to erect bulwarks against the Occupation. For more than a century, the hands that built Israel's houses, schools, offices, bridges, and even its separation barriers have been Palestinian. Looking at the Palestinian–Israeli conflict in a new light, this book, largely based on field interviews in the region, asks how this record of labor and achievement can and should be recognized.
About the Author
---
Andrew Ross is Professor of Social and Cultural Analysis at New York University, and a social activist. A contributor to The Nation, the Village Voice, New York Times, and Artforum, he is the author of many books, including, most recently, Bird on Fire: Lessons from the World's Least Sustainable City and Nice Work if You Can Get It: Life and Labor in Precarious Times. He lives in New York.
Praise For…
---
"Poignant, poetic, and illuminating, this book exposes a chief paradox of Israeli settler colonialism: that skilled Palestinian laborers built modern Israel—its homes, offices, shopping malls, prisons, border walls—while their own homes were demolished or seized. This is history, sensitive and somber, written in stone."
—Robin D.G. Kelley, author of Freedom Dreams

"Meet 'Michelangelo of Beit Fajjar' and the other Palestinian stone-masons whose superb craft has fashioned Israel's famous 'white cities.' Their hidden labor is the starting point for Ross's brilliantly original exploration of how dispossession and exploitation continue to define the relationship of Israeli and Palestinian societies. This is radical journalism at its best—and I mean Pulitzer-Prize–quality best."
—Mike Davis, author of Planet of Slums

"When a writer as original and committed as Andrew Ross turns his attention to Palestine, we know we are up for a unique set of observations. Ross uses the stone quarries of palestine to weave a story that brings together geology, politics, military occupation, water, and environment. It is a story that is at once specific in its attention to details of matter and place and expansive as it takes us across the tragic history of this late manifestation of colonial domination."
—Eyal Weizman, author of Hollow Land

"Andrew Ross sheds a brilliant light on what he calls the 'sweat equity' of Palestinian laborers who were deprived by Israel's system of occupation and apartheid of their land and livelihood and pushed as a result to build Israeli housing and infrastructure to survive and to resist ethnic cleansing. Ross enriches us not just with a meticulously researched dose of history and a logical argument for a postcolonial reality of ethical coexistence in historic Palestine. He takes us on a perspicacious journey of human stories, ethical arguments and socioeconomic realities, consciously refraining from speaking on behalf of Palestinians or depicting us as pitiful victims, as many well-meaning white academics still do, and thus contributing to understanding what justice in this land truly means and entails."
—Omar Barghouti, Palestinian human rights defender

"Just when you thought that there was no other way to amplify the atrocity of the Israeli occupation of Palestine, along comes Andrew Ross with Stone Men: The Palestinians Who Built Israel. Here is a refreshingly clear picture of the labour that it takes to produce and reproduce Israeli society and the Israeli occupation. Ordinary Palestinians who break and lay the stones tell Andrew Ross their stories, and he offers them to us as a gift of their resilience."
—Vijay Prashad, author of the Poorer Nations

"Scrupulous … Andrew Ross has left a portentous mark on what will be, if it happens, a profound debate for the civil rights of indigenous Palestinians in a single-state, a principal share Palestinians have already built themselves."
—Palestine Chronicle

"Stone Men … consistently provides insights into the troubled and troubling relationships between Israelis and Palestinians that are hard to come by elsewhere."
—Ben Ehrenreich, Guardian

"Ross moves continuously and seamlessly between the broad picture and the intimate individual experience, elucidating crucial points as he does so."
—Morning Star

"A moving story of craft, material and culture."
—Edwin Heathcote, Financial Times

"Stone Men provides an in-depth assessment of the coercive and exploitative dynamics which have the potential to open new ways of looking at Palestinian rights to land and territory."
—The New Arab

"Combines quality journalism with a solid critique of what's been laid down ever since Zionism met capitalism."
—Middle East Monitor

"A unique record of the voices of the Palestinian workers who—quite literally—built Israel … path-breaking."
—Race & Class