Someone in Time: Tales of Time-Crossed Romance (Paperback)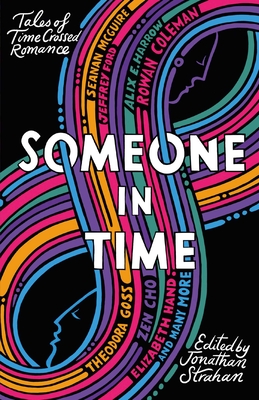 $18.99
This item is out of stock with our warehouse. Some recently published books may be in stock @ Room. Email to check.
Description
---
Anthology of inclusive tales of people through time looking for one another and for ways for the world to be better.

Even time travel can't unravel love

Time-travel is a way for writers to play with history and imagine different futures – for better, or worse.

When romance is thrown into the mix, time-travel becomes a passionate tool, or heart-breaking weapon. A time agent in the 22nd century puts their whole mission at risk when they fall in love with the wrong person. No matter which part of history a man visits, he cannot not escape his ex. A woman is desperately in love with the time-space continuum, but it doesn't love her back. As time passes and falls apart, a time-traveller must say goodbye to their soulmate.

With stories from best-selling and award-winning authors such as Seanan McGuire, Alix E. Harrow and Nina Allan, this anthology gives a taste for the rich treasure trove of stories we can imagine with love, loss and reunion across time and space.

Including stories by: Alix E. Harrow, Zen Cho, Seanan McGuire, Sarah Gailey, Jeffrey Ford, Nina Allan, Elizabeth Hand, Lavanya Lakshminarayan, Catherynne M. Valente, Sam J. Miller, Rowan Coleman, Margo Lanagan, Sameem Siddiqui, Theodora Goss, Carrie Vaughn, Ellen Klages
About the Author
---
Jonathan Strahan is a World Fantasy Award award-winning editor, anthologist, and podcaster. He has edited more than 70 books, is reviews editor for Locus, a consulting editor for Tor.com, and co-host and producer of the Hugo-nominated Coode Street Podcast.

Nina Allan's stories have appeared in numerous magazines and anthologies, including Best Horror of the Year #6, The Year's Best Science Fiction and Fantasy 2013, and The Mammoth Book of Ghost Stories by Women. Her novella Spin, a science fictional reimagining of the Arachne myth, won the BSFA Award in 2014, and her story cycle The Silver Wind was awarded the Grand Prix de L'Imaginaire in the same year. Her debut novel The Race was a finalist for the 2015 BSFA Award, the Kitschies Red Tentacle, and the John W. Campbell Memorial Award. Nina lives and works in North Devon.

Zen Cho (zencho.org) is the author of the Sorcerer to the Crown novels, the novella The Order of the Pure Moon Reflected in Water and a short story collection, Spirits Abroad. Her newest novel is Black Water Sister, a contemporary fantasy set in Malaysia. Zen is a Hugo, Crawford, and British Fantasy Award winner, and a finalist for the Lambda, Locus, and Astounding Awards. She was born and raised in Malaysia, resides in the UK, and lives in a notional space between the two.

Rowan Coleman (rowancoleman.co.uk) is the New York and Sunday Times bestselling author of several novels including The Summer of Impossible Things and The Memory Book. She also writes the Brontë Mysteries series, including The Vanished Bride, The Diabolical Bones, and The Red Monarch under the name Bella Ellis.

Jeffrey Ford (www.well-builtcity.com) is the author of the novels The Physiognomy, Memoranda, The Beyond, The Portrait of Mrs. Charbuque, The Girl in the Glass, The Cosmology of the Wider World, The Shadow Year, The Twilight Pariah, Ahab's Return, and Out of Body. His short story collections are The Fantasy Writer's Assistant, The Empire of Ice Cream, The Drowned Life, Crackpot Palace, A Natural History of Hell, The Best of Jeffrey Ford, and Big Dark Hole. Ford's fiction has appeared in numerous magazines and anthologies from Tor.com to the Magazine of Fantasy and Science Fiction to The Oxford Book of American Short Stories and has been widely translated. It has garnered World Fantasy, Edgar Allan Poe, Shirley Jackson, Nebula awards and a New York Times Notable Book of the Year.

Hugo Award winner and bestselling author Sarah Gailey (www.sarahgailey.com) is an internationally published writer of fiction and nonfiction. Their nonfiction has been published by Mashable and the Boston Globe. Their short fiction credits include Vice and The Atlantic. Their debut novella, River of Teeth, was a 2018 Hugo and Nebula award finalist. Their bestselling adult novel debut, Magic For Liars, was published in 2019. Their most recent novel is The Echo Wife.

Theodora Goss (www.theodoragoss.com) is the World Fantasy, Locus, and Mythopoeic Award-winning author of the short story and poetry collections In the Forest of Forgetting, Songs for Ophelia, and Snow White Learns Witchcraft, as well as novella The Thorn and the Blossom, debut novel The Strange Case of the Alchemist's Daughter, and sequels European Travel for the Monstrous Gentlewoman, and The Sinister Mystery of the Mesmerizing Girl. She has been a finalist for the Nebula, Crawford, and Shirley Jackson Awards, as well as on the Tiptree Award Honor List. Her work has been translated into fifteen languages. She teaches literature and writing at Boston University and in the Stonecoast MFA Program.

Elizabeth Hand (www.elizabethhand.com) is the author of sixteen multiple-awarding novels, among them the Cass Neary series of psychological thrillers, and six collections of short fiction and essays. She is a longtime critic and reviewer for many publications, including the Washington Post and F&SF, and is on faculty at the Stonecoast MFA Program in Creative Writing. Her supernatural thriller, Under the Big Black Sun, will be published by Mulholland Books this year. Under optimum conditions, she divides her time between the Maine coast and North London.

Alix E. Harrow (alixeharrow.wixsite.com/author) is an ex-historian currently living in Virginia with her husband and their semi-feral children. She won a Hugo for her short fiction and her debut novel, The Ten Thousand Doors of January, was a nominated for the Hugo, Nebula, Locus, World Fantasy, and Goodreads Choice Awards. Her second novel, The Once and Future Witches, was named as one of the Best Books of the Year by NPR Books. Her novella, A Spindle Splintered, was released by Tordotcom in 2021 and a sequel is due later this year.

Ellen Klages (www.ellenklages.com) is the author of three acclaimed MG historical novels: The Green Glass Sea, which won the Scott O'Dell Award and the New Mexico Book Award; White Sands, Red Menace, which won the California and New Mexico Book awards; and Out of Left Field, which won the Children's History Book Prize and the Ohioana Book Award. Her adult novel, a historical fantasy, Passing Strange, won the World Fantasy and British Fantasy awards in 2018. Her short fiction has been translated into a dozen languages and been nominated for or won multiple Hugo, Nebula, Locus, Mythopoeic, and World Fantasy awards. "Time Gypsy" was her first published story. Ellen lives in San Francisco, in a small house full of strange and wondrous things.

Lavanya Lakshminarayan is the author of Analog/Virtual: And Other Simulations of Your Future. She is a Locus Award finalist and is the first science fiction writer to win the Times of India AutHer Award and the Valley of Words Award, both prestigious literary awards in India, and her work has been longlisted for a BSFA Award. She's occasionally a game designer, and has built worlds for Zynga Inc.'s FarmVille franchise, Mafia Wars, and other games. She lives in India, and is currently working on her next novel.

Margo Lanagan has published two dark fantasy novels (Tender Morsels and The Brides of Rollrock Island) and seven short story collections, most recently a collection of micro-fiction, Stray Bats. She collaborated with Scott Westerfeld and Deborah Biancotti on the New York Times bestselling trilogy, Zeroes. Her work has won four World Fantasy, nine Aurealis and five Ditmar awards, and has been shortlisted in the Nebula, Hugo, Bram Stoker, Theodore Sturgeon, Shirley Jackson, International Horror Guild, British Science Fiction Association, British Fantasy, and Seiun awards, and twice made the James Tiptree Jr Honor List. Her books and stories have been widely translated. Margo lives in Sydney, Australia.

Seanan McGuire (www.seananmcguire.com) writes things. It is difficult to make her stop. Her first book was published in 2009; since then, she has released more than thirty more, spanning multiple genres, all through traditional publishing channels, and has been awarded the Hugo Award three times and the Nebula Award once (so far). We're not entirely sure she sleeps. We're also not entirely sure she isn't a living channel for the corn, green grow its leaves, shallow grow its roots. When not writing, she enjoys travel, spending time with her cats, and watching more horror movies than is strictly healthy for any living thing. Keep up with her online where she posts many, many pictures of the aforementioned cats. Seanan would like to talk to you about the X-Men, Disney Parks, and terrifying parasites. She can be bribed with Diet Dr Pepper to stop.

Sam J. Miller's (https://samjmiller.com/) books have been called "must reads" and "bests of the year" by USA Today, Entertainment Weekly, NPR, and O: The Oprah Magazine, among others. He is the Nebula-Award-winning author of Blackfish City, which has been translated into six languages and won the John W. Campbell Memorial Award. Sam's short stories have won a Shirley Jackson Award and been nominated for the World Fantasy, Theodore Sturgeon, and Locus Awards, and have been reprinted in dozens of anthologies. He's also the last in a long line of butchers. He lives in New York City.

Catherynne M. Valente (www.catherynnemvalente.com) is the New York Times bestselling author of forty works of speculative fiction and poetry, including Space Opera, The Refrigerator Monologues, Palimpsest, the Orphan's Tales series, Deathless, Radiance, and the crowdfunded phenomenon The Girl Who Circumnavigated Fairyland in a Ship of Own Making (and the four books that followed it). She is the winner of the Andre Norton, Tiptree, Sturgeon, Prix Imaginales, Eugie Foster Memorial, Mythopoeic, Rhysling, Lambda, Locus, Romantic Times' Critics Choice, and Hugo awards. She has been a finalist for the Nebula and World Fantasy Awards. She lives on an island off the coast of Maine with a small but growing menagerie of beasts, some of which are human.

Carrie Vaughn's (www.carrievaughn.com) work includes the Philip K. Dick Award winning novel Bannerless, the New York Times Bestselling Kitty Norville urban fantasy series, over 20 novels and upwards of 100 short stories, two of which have been finalists for the Hugo Award. Her most recent work includes a pair of novellas about Robin Hood's children, The Ghosts of Sherwood and The Heirs of Locksley. She's a contributor to the Wild Cards series of shared world superhero books edited by George R. R. Martin and a graduate of the Odyssey Fantasy Writing Workshop. An Air Force brat, she survived her nomadic childhood and managed to put down roots in Boulder, Colorado.

Sameem Siddiqui (sameemwrites.com) is a speculative fiction writer currently living in the United States. He enjoys writing to explore the near future realities people of South Asian ancestry and Muslim heritage will face in the coming centuries. His stories explore issues of migration, gender, family structure, economics, and space habitation. He's attended the Tin House and FutureScapes workshops and his stories have appeared in Clarkesworld and ApparitionLit. Some of Sameem's favorite authors include Kurt Vonnegut, Octavia Butler, and Haruki Murakami. When he's not writing, Sameem enjoys reveling in fatherhood, watching '90s Star Trek or Avatar: The Last Airbender and tinkering with data and music.
Praise For…
---
"This does the subgenre proud" -- Publishers Weekly

"An outstanding collection" -- Locus

"Utterly beautiful" -- The Fantasy Hive