Odessa Stories (Paperback)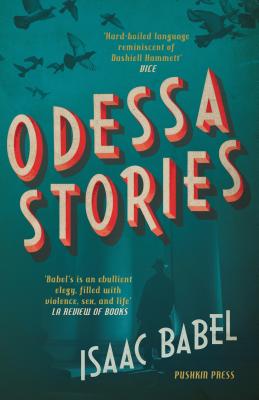 $15.95
This item is out of stock with our warehouse. Some recently published books may be in stock @ Room. Email to check.
Description
---
A collection of "electric, heroically wrought" Russian short stories of violence, crime, and sex set in Ukraine—for fans of hard-boiled fiction by Raymond Chandler and Dashiell Hammett (John Updike)

Odessa was a uniquely Jewish city, and the stories of Isaac Babel—a Jewish man, writing in Russian and born in Odessa—uncover its tough underbelly around the time of the Russian Revolution. Gangsters, prostitutes, beggars, smugglers: no one escapes the pungent, sinewy force of Babel's pen.
 
From the tales of the magnetic cruelty of Benya Krik—infamous mob boss, and one of the great anti-heroes of Russian literature—to the devastating semi-autobiographical account of a young Jewish boy caught up in a pogrom, this collection of stories is considered one of the great masterpieces of twentieth-century Russian literature.

Translated with precision and sensitivity by Boris Dralyuk, whose rendering of the rich Odessan argot is pitch-perfect, Odessa Stories is the first ever stand-alone collection of Babel's narratives set in the city and includes the original stories as well as later tales.


"The salty speech of the city's inhabitants is wonderfully rendered in a new translation by Boris Dralyuk . . . Hard-boiled language reminiscent of Dashiell Hammett." —Vice
About the Author
---
Isaac Babel was a short-story writer, playwright, literary translator and journalist. He joined the Red Army as a correspondent during the Russian civil war. The first major Russian-Jewish writer to write in Russian, he was hugely popular during his lifetime. He was murdered in Stalin's purges in 1940, at the age of 45.

Translated from Russian by Boris Dralyuk.
Praise For…
---
"One of those 'where have you been all my life?' book . . . Fractured, jarring, beautiful, alive to humour . . . an excellent translation."
—Nicholas Lezard, The Guardian

"These celebrated stories have never been rendered with the cutting flair Boris Dralyuk's new English translations impart to them . . . Babel's is an ebullient elegy, filled with violence, sex, and life."
—Los Angeles Review of Books

"The salty speech of the city's inhabitants is wonderfully rendered in a new translation by Boris Dralyuk, who preserves the characters' Yiddishisms ('He doesn't talk much, but when he talks, you want he should keep talking') and imbues the dialogue with hard-boiled language reminiscent of Dashiell Hammett ('Buzz off, coppers... or we'll flatten you'). Although Babel mostly lets characters speak for themselves, the narrators' descriptions can be as luxurious as the stolen jewels given to Benya's sister on her wedding night, or as surprising as a slap in the face."
—Vice

"Glorious stories by the incomparable Babel . . . This wonderful collection is a companion volume to Red Cavalry. Babel is required reading."
—Eileen Battersby, Irish Times (Best Books of 2016)

"Electric, heroically wrought prose."
—John Updike

"Aside from being a great writer, Babel stands as an emblem of the tragedy of 20th century totalitarianism . . . literary genius framed by 20th-century tragedy."
—New York Times

"His is still an original, sparky voice sounding out of the great Russian literary pantheon."
—Paddy Kehoe, RTE Arena

"Sparkling, wily and loose-tongued . . . Babel's dialogue calls for a daring translator . . . Boris Dralyuk delivers brilliantly."
—Times Literary Supplement

"It is impossible to look at the world the same way after reading Babel . . . one of the enduring jewels of 20th-century Russian literature."
—Financial Times