US Combat Shotguns (Weapon) (Paperback)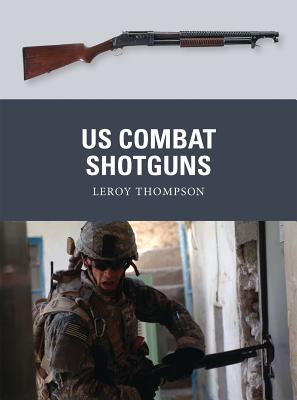 $22.00
This item is out of stock with our warehouse. Some recently published books may be in stock @ Room. Email to check.
Other Books in Series
This is book number 29 in the Weapon series.
Description
---
Winchester, Remington, Ithaca Gun Company, Stevens, Savage, Mossberg, Benelli, and other gun manufacturers have produced a range of combat shotguns for US armed forces. When a soldier must face multiple opponents at close quarters, few weapons can match the shotgun. From World War I to the War on Terror, the shotgun has been a devastating weapon in the hands of US troops. For urban combat, prisoner control, and shipboard operations it remains as deadly today as it was a century ago.

Early combat shotguns were basically sawed-off versions of the double-barreled shotguns used for sporting purposes. The Winchester Model 97 slide-action shotgun, first used in 20in-barreled "riot gun" form during the Philippine Insurrection, would remain in service in one form or another at least until the Vietnam War. During World War I shotguns were obtained in "riot gun" versions and also in "trench gun" versions (trench guns had a ventilated handguard added that allowed the mounting of a bayonet; riot guns did not have this feature). Joining the Model 97 as trench guns were the Winchester Model 12 and Remington Model 10, while these slide-action weapons plus the Remington Model 11, a semi-automatic, also served as riot-guns. So effective was the trench shotgun that Germans claimed it was inhumane and violated the "Rules of War", threatening to execute troops captured carrying a shotgun.

The various Banana Wars saw the use of World War I military shotguns still in the armories. During World War II, Winchester Model 12 and Model 97 trench and riot guns were joined by the Ithaca Model 37, Remington Model 11 and Model 31, Stevens Models 520-30 and 620A, and Savage Model 720. The US Marines found the shotgun useful for the close combat they encountered in the jungles during World War II, in humid conditions that necessitated the development of military brass-case shotgun shells, while OSS agents found single-shot shotguns useful for arming guerillas in Burma, the Philippines, and elsewhere.

During the Korean and Vietnam Wars the same types of shotguns deployed during World War II were used, though some additional models were acquired as riot guns, including the Remington Model 870, Savage Model 77E, Winchester Model 1200, and Winchester Model 25. In Vietnam shotguns were used by point men and others on patrol, while members of the US Navy SEALs especially liked shotguns for launching ambushes in the Mekong Delta.

During the period since the First Gulf War new combat shotguns have been adopted by the US military, such as the Mossberg 500 series, including one trench-gun model, and the Benelli 1014. More recently during the War on Terror, shotguns have been used to clear cave complexes in Afghanistan and buildings in Iraq, but especially to blow doors open during entries and searches.

Featuring specially commissioned full-color artwork, this is the story of the origins, development and use of the combat shotgun in US service, from the trenches of World War I to the cave complexes of Afghanistan.
About the Author
---
Leroy Thompson has trained military and police special-operations units around the world, focusing especially on the tactical use of firearms. He is the author of more than 50 books, including The Colt 1911 Pistol and The Browning High-Power Pistol for Osprey.

Peter Dennis was inspired by contemporary magazines such as Look and Learn, leading him to study Illustration at Liverpool Art College. Peter has since contributed to hundreds of books, predominantly on historical subjects, including many Osprey titles. A keen wargamer and modelmaker, he is based in Nottinghamshire, UK.