Batman: Shadows of the Bat: House of Gotham (Hardcover)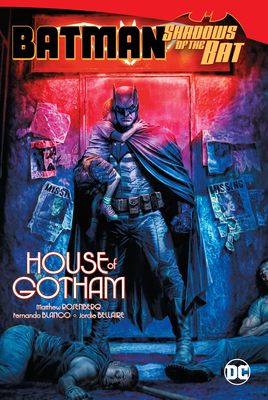 Description
---
For a long time two houses have overlooked Gotham City, beckoning its broken: Wayne Manor and Arkham Asylum.

Explore the impact that Batman and Arkham Asylum have had on the city…through the eyes of a boy whose life was changed forever by The Joker one dreadful night early in the Dark Knight's career!

A boy's parents were killed by The Joker, and he fell through the cracks of the system. Instead of being sent to a facility that could care for him and his trauma, he was sent to Arkham Asylum! It's a cycle of violence the Dark Knight has no answer for as Gotham's most vulnerable struggle to keep their heads above water! Collects the complete Batman: Shadows of the Bat: House of Gotham story from Detective Comics Detective Comics #1047-1058.
About the Author
---
Matthew Rosenberg is an American writer of comic books including We Can Never Go Home, 4 Kids Walk into a Bank, and Twelve Reasons To Die for Black Mask Studios, Punisher, New Mutants, Phoenix Resurrection, Tales of Suspense, Kingpin, Rocket Raccoon, Secret Warriors, and Edge of Venomverse for Marvel, and Archie Meets Ramones and The Archies for Archie.