Batman: Noel (Hardcover)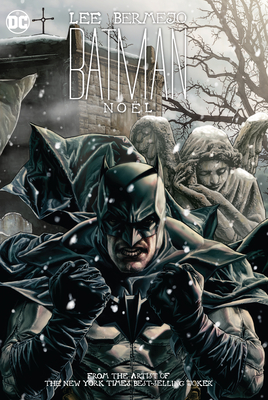 $19.99
This item is out of stock with our warehouse. Some recently published books may be in stock @ Room. Email to check.
Description
---
#1 NEW YORK TIMES Bestseller
Inspired by Charles Dickens' immortal classic A Christmas Carol, BATMAN: NOEL features different interpretations of The Dark Knight, along with his enemies and allies, in different eras.
Along the way, Batman must come to terms with his past, present and future as he battles villains from the campy 1960s to dark and brooding menaces of today, while exploring what it means to be the hero that he is. Members of Batman's supporting cast enact roles analogous to those from A Christmas Carol, with Robin, Catwoman, Superman, The Joker and more playing roles that will be familiar to anyone who knows Dickens' original holiday tale.
About the Author
---
Lee Bermejo began drawing comics in 1997 for WildStorm Studios in San Diego at age 19. He collaborated with acclaimed writer Brian Azzarello on the graphic novels JOKER, LUTHOR and BEFORE WATCHMEN: RORSCHACH, and worked with writer John Arcudi on the Superman feature in WEDNESDAY COMICS. He has also worked on HELLBLAZER with writer Mike Carey and GLOBAL FREQUENCY with writer Warren Ellis. He has written and illustrated The New York Times best-selling book BATMAN: NOEL, as well as the new Vertigo series SUICIDERS.
Praise For…
---
"Amazing. This book is a visual treat."—The New York Times
"Simply terrific."—Scripps Howard News Service
"The caped crusader channels the gravelly paranoia of Frank Miller's The Dark Knight Returns while a desperate father working for the Joker lends the story its moral weight and inevitable humanitarian payoff."—Paste Magazine
"Absolutely exquisite… I'd be more than happy to add reading "Batman: Noel" and watching it to my yearly yuletide festivities."—Yahoo! Movies
"Bermejo has simply created an instant classic with BATMAN NOEL that is larger than any holiday."—Ain't It Cool News
"Surprising, new, gorgeous to look at, and also incredibly heartfelt. So you know, the perfect stocking stuffer."—MTV GEEK
"[Bermejo]'s incorporating his unique style to create a fresh kind of Batman tale, lending it a distinctive flavor that would be impossible for any other artist to replicate."—IGN
"More than just a regular graphic novel."—UGO
"Gorgeously illustrated."—io9
"More than a clever entertainment, and does more than just prove that Bermejo is a fine writer." —The Morton Report
"Some artists like Bermejo seem to be regarded as having objectively beautiful illustrations. Bermejo is able to take characters we know and love and give them a sinister and realistic twist that makes them pop out of the pages. Batman Noel is worth picking up for the artwork alone."—Bloody_Disgusting.com, Pick of the Week
"Gives the classic story the dark edge that's inherent in anything set in Gotham City."—Newsarama
"Lush."—Comic Book Resources