A Deeper Wellness: Conquering Stress, Mood, Anxiety and Traumas (Paperback)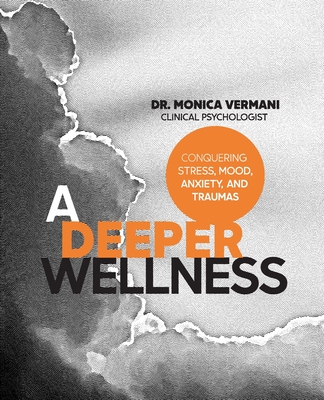 $21.95

In stock with our warehouse--usually ships within 1-7 days. May or may not be in stock at Room.
Description
---
How to heal your past, deal with your present, and take control of your future
If you're ready to work smarter -not harder - on your healing and growth, this book offers you a roadmap that will lead you out of pain and fear, and into the life you deserve. Trauma, stress, and mood disorder specialist, Dr. Monica Vermani, shares insights, knowledge, and self-reflective exercises honed over 25 years as a clinical psychologist, in 18 concise life lessons designed to take your healing to a deeper level.
A Deeper Wellness guides you through a powerful, challenging, and proven healing process.
You'll learn to:
- identify and understand the interplay of your problematic physical symptoms, negative thoughts, and maladaptive behaviors
- free yourself from past hurts and emotional debris
- take steps to factor your wellbeing into the equation of your life
- connect with opportunities for healing and growth
- commit to living a more authentic, and happy life
Having watched Dr. Vermani develop the therapeutic approach she presents in this book, I am delighted to see how she brings together mind-body-spirit in an organized, practical way for others. Use these tools to change your life.
Richard P. Brown, MD
Associate Professor in Clinical Psychiatry, Columbia University Medical College
A Deeper Wellness is the book I wish I had when I was dealing with some challenges at a time in my life when I found myself at a crossroads. I highly recommend this book for its many insights, resources, and ability to make complicated emotions simple to understand.
Mia Martina, Multi-Platinum Recording Artist Bestselling Author
A Deeper Wellness is an essential companion to everyone's self-development journey. If you want to improve any part of your life - become more peaceful, positive and successful - you should read and do the work outlined in this book.
Freedom Malhotra, Executive Director of The Young Leaders
The meteoric rise of mental health issues congruent with the pandemic demands a healing approach, which, goes deeper' than the traditional therapeutic modals. A Deeper Wellness provides an essential healing tool for our times.
Cassandra Joan Butler BSW, MS, LMT
Counseling Astrologer