The Ultimate Baby & Newborn Book for Dads - The Complete Dad Pregnancy Book & What You Need to Know to Be Prepared to Be A Father (Large Print / Paperback)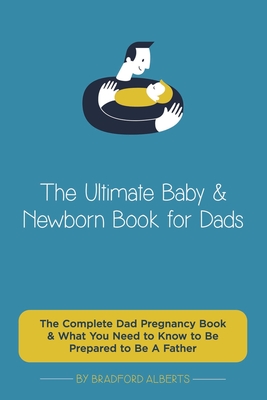 $19.95

In stock with our warehouse--usually ships within 1-7 days. May or may not be in stock at Room.
All sales of this book are final--it is print on demand and may take up to 3 weeks to arrive.
Description
---
Finding out that you are going to become a father is one of the most exciting, and possibly the most nerve-wracking times in any man's life. To date, there are countless books and resources available for new moms-to-be, but very little exists to support dads in their journey to becoming fathers. We are changing that narrative now, for good The Ultimate Baby & Newborn Book for Dads: The Complete Dad Pregnancy Book & What You Need to Know to Be Prepared to Be A Father is THE book for any expecting dad to have on hand.
This manual is going to show you how to navigate the confusing and often overwhelming world of fatherhood in the most effective manner possible. By following the advice in this book, you will be fully prepared to navigate every stage of pregnancy and babyhood with your partner and your new baby. The Ultimate Baby & Newborn Book for Dads is designed to give you the easiest, most accurate, and complete information that you need for stepping into parenthood.
⭐ The Ultimate Baby & Newborn Book for Dads INCLUDES: ⭐
✅ What to expect during pregnancy, including the important stages of your baby's growth in the uterus.
✅ The elusive "fourth trimester" and what to expect during the first three months of your baby's life.
✅ How to baby proof your home properly to avoid any accidents with your growing infant.
✅ What a "baby stockpile" is, why you need one, and what you need to include in yours
✅ What happens during the birthing process and the role you will be playing in the labor and delivery room.
✅ What to expect in infancy and how you can take proper care of your baby.
✅ The steps you must take to bond with your baby properly, and why this is so important to do right from day 1.
✅ Practical steps for caring for your baby
✅ How to deal with common illnesses and what to do if the illness seems troubling.
✅ Important first aid tips every new parent needs to know
✅ How toilet training works.
✅ Studies that show you how to structure your baby's life and to be the best father you can be and MORE
This entire book is designed to give you everything you need to confidently step into the world of parenting alongside your partner so that you can raise the happiest and healthiest baby possible. While society may still be joking that dads are clueless and moms are the ones to rely on when it comes to all matters of childbearing, you know better. You are ready to be as involved and caring for your baby as possible, and you need a copy of The Ultimate Baby & Newborn Book for Dads to show you just how to do it. Grab your copy today