Jordemoder: Poems of a Midwife (Paperback)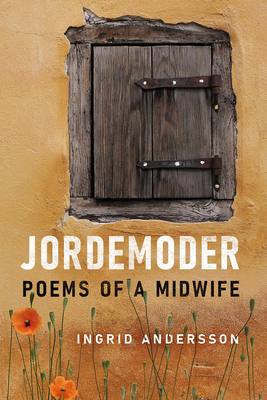 $16.95

In stock with our warehouse--usually ships within 1-7 days. May or may not be in stock at Room.
Description
---
"Ingrid Andersson's poems are well crafted and passionate at once. They are rooted in her family, her work as a midwife birthing babies in a natural age-old way, her own motherhood and her travels. Her work reveals an identification with and close observation of birds, mammals including herself and her clients, flowers, trees, the seasons. These poems offer both insight and joy."--Marge Piercy, author of On the Way Out, Turn Off the Light: Poems
A Swedish-American midwife is a Best of the Net poet and Pushcart Prize nominee, and has released her bold, life-affirming debut poetry collection.
"A midwife is in the thick of it, she sees it all," Jennifer Worth, author of Call the Midwife. It is midwifing in its broadest sense--from releasing a newborn's stuck shoulders or catching a baby in the caul, to Socratic questioning around body autonomy, social justice and climate sustainability. The poems are layered and bi-cultural, rooted in contrasts between America and Sweden, as well as between colonial/industrial and ecological/relational ways of caring for each other and the earth. With a sense of humor, love, art and aging, Jordemoder is a collection of midwifed hope.

Maw


In the middle of the night, my mother
would bury her face in her mute, farm-woman's hands between the hinged high-fidelity speakers of our Zenith record player, the soaring trills of Verdi's dying Violetta vanquishing the dark.

At the end of the opera,
she'd raise her head, revived, and I learned from the edge of the living room: life turns on passion, as much as breath.

In the middle of the afternoon, I learned
not to be afraid of Virginia Woolf or Hedda Gabler. And now, when my child goes looking for his mother, I can explain: it's in the genes, or a law of nature, or some all-consuming love--disappearing into the maw of entropy and art.
About the Author
---
Ingrid Andersson has practiced as a home-birth nurse midwife for many years. She studied poetry and literature in Swedish, German, French and English, as well as anthropology, at the University of Wisconsin-Madison, before mixing that fertile ground with the art and science of midwifery (Frontier Nursing University, 2000). Ingrid is a healthcare activist and founder of related nonprofits. Her poetry has been nominated for a Pushcart Prize and Best of the Net and has appeared in Ars Medica, Eastern Iowa Review, Literary Mama, Midwest Review, Minerva Rising, Plant-Human Quarterly, Torrey House Press, and elsewhere. She lives in Madison, Wisconsin with her Swedish-Finnish husband, son, dogs, chickens and bees. Jordemoder is her debut collection.