Unknown Bodies: Mothers Daughters and Adoption (Paperback)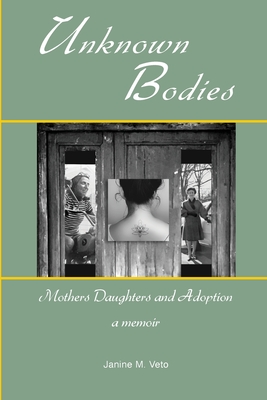 $14.99

Usually Ships in 2-7 Days
Description
---
The dramatic story of one woman's determined surprising search for her birth parents and commitment to creating her own family
Janine Veto's "Unknown Bodies: Mothers Daughters and Adoption" is a brutally and beautifully honest story that begins on a Villa Park, Illinois, playground when her playmate calls her "bastard." Until then she thought being adopted was happily special. Her life had been privileged, secure and typically 1950s American: Dad, mom, brother, church on Sunday, lakeside summers in northern Wisconsin. Suddenly Veto felt she was "misplaced." The need to find her so-called "real parents" grew. It was a need that would take decades as well as drive, cunning, a little thievery and a lot of spunk. It also was a need fueled by alcohol, sex and disillusion.
Set in the arts and philanthropy worlds of Chicago and New York as well as Iowa farm country, a Denver sports bars and a Midwestern university town, it is memoir of a Boomer in search of her identity in the rapidly changing landscape of what it means to be adopted in America.
Ultimately, the message of "Unknown Bodies" is love; the unconditional love of Veto's adoptive parents, accepting and forgiving love for her broken "real parents", and the bonding love between Veto and her own adopted daughter.