Through It All I'm Still Standing (Hardcover)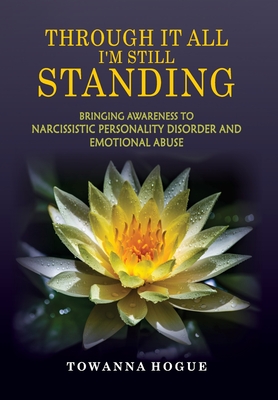 $25.00
Usually Ships in 2-7 Days
All sales of this book are final--it is print on demand and may take up to 2 weeks to arrive.
Description
---
Through It All I'm Still Standing is a story about experiencing love, trials, tribulations, abuse, loss, strength, endurance, faith, triumphs, and deliverance. It's about feeling like all hope is lost but remembering to have faith because there is a God that will cover you and see you through-remembering that he will make a way out of no way as long as you are patient and have faith. It might not be when you want it, but he is always on time. I share similar personal experiences of surviving several challenges, including marriage, divorce, cancer, loss of loved ones, and more.
Through It All I'm Still Standing is a self-help book that aims to bring awareness to mental illnesses, such as depression, PTSD, anxiety, and narcissistic personality disorder. I also wanted to discuss the many forms of abuse that are sometimes minimized but are just as bad as any other form of abuse, such as emotional, verbal, and financial abuse. My hope is to help people in similar situations and their families to deal with the effects of the unfortunate phenomena. My goal is to banish the misconceptions of mental health and to overcome the stigma of it as well as seeking the help needed.
This book is designed to give hope from the first sight, with the use of the yellow lotus flower on the book cover symbolizing personal growth. The yellow lotus is an analogy of how it grows in deep mud, far away from the sun, but eventually reaches the light and becomes the most beautiful flower ever. Never allow anyone to ever make you feel less than. Always know your worth and practice more self-love. Through It All I'm Still Standing, and you will too