We Are Staying: Eighty Years in the Life of a Family, a Store, and a Neighborhood (Paperback)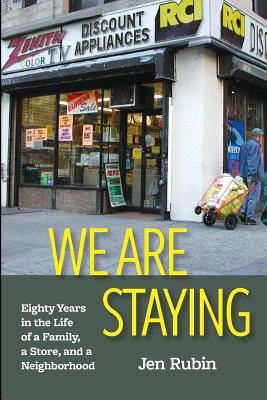 $16.95

In stock with our warehouse--usually ships within 1-7 days. May or may not be in stock at Room.
Description
---
"The best political stories are the human ones, and Jen Rubin recognizes this...Anyone who cares about urban policy, the history and the future of New York City and of a country that suffers from so much division, yet has the potential still to unite, will cherish this book."
(John Nichols, The Nation)
On the morning of July 14, 1977, Alan Rubin stood on the sidewalk at Broadway and 98th Street staring through the shattered windows of his store, Radio Clinic. After a 25-hour blackout, more than 1,600 New York City stores had been looted. With its shelves of stereo equipment, televisions, boomboxes and other electronics, Radio Clinic had been an irresistible target.
A resilient and street-smart character, Alan was never stronger than he was during in the aftermath of the blackout. When others closed up shop and neighbors feared the neighborhood's further decline, he hung a sign on the window the day after the blackout that read defiantly, "We Are Staying." He stayed and he stayed and he stayed, until, finally, he could stay no longer.
Forty-three years earlier his father, Leon Rubin, opened the store during the depths of the depression as a radio repair shop. To distinguish his shop from his many nearby competitors in those early days of radio, he sat fixing radios in the storefront window - visible to the public in his "clinic" -- wearing a white doctor's lab coat. For 80 years Radio Clinic provided an anchor as its neighborhood contended with the great Depression, World War II, post war consumerism, urban renewal polices, the near economic collapse of New York City, government indifference and gentrification
Richly detailed, We Are Staying: Eighty Years in the Life of a Family, a Store, and a Neighborhood, is a remarkably powerful, poignantly told story of a family, a business, a neighborhood and a city. It is an immigrant story, a grandfather-father-daughter story, a story of the unique character a family business brings to a neighborhood, and a reflection on what has been lost as stores like these disappear.