Slobberknocker: My Life in Wrestling (Hardcover)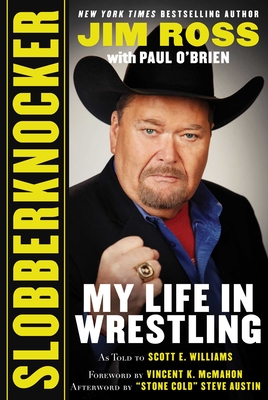 $24.99
This item is out of stock with our warehouse. Some recently published books may be in stock @ Room. Email to check.
Description
---
New York Times bestselling author! Here is the story of how Jim Ross, an Oklahoman farm kid with a vivid imagination and seemingly unattainable dreams, became "The Voice of Wrestling" to record TV audiences and millions of fans around the world.

There are few people who have been in the wrestling business longer than Jim Ross. And those who have made it as long as he has (half a century to be exact) probably made enemies or burned bridges. But that's just not JR. He's recognized as the man who built and nurtured a once-in-a-generation talent roster that took the WWE to new heights, including "Stone Cold" Steve Austin, Brock Lesnar, and The Rock to name a few. Readers will finally get the opportunity to hear never-before-told stories about the politics, wackiness, and personalities of all the biggest stars.

Jim opens up about his life as an only child on a working farm, who became obsessed with professional wrestling having first saw it on his grandparent's TV. Even though the wrestling business was notoriously secretive and wary of "outsiders," he somehow got a foot in the door to start a historic career, one where he held almost every job in the business—from putting up the ring to calling matches, from driving his blind, drunk boss towards revenge, to consoling two naked 600 pound brothers in the shower room after a rough match.

This isn't just a wrestling story. It's a story about overcoming adversity and achieving your dreams, as success did not come without significant costs and unforeseen challenges to JR, including multiple bouts of severe facial paralysis called Bell's Palsy.

Currently the host of the podcast The Ross Report, any fan of wrestling—from the territory days to today—will be enthralled with stories from the road and behind the scenes. Slobberknocker is the first time Ross tells his story—and you don't want to miss it!
About the Author
---
Jim Ross has been involved in professional wrestling for more than forty years. Elected into the WWE, NWA, and National Wrestling Halls of Fame, he is known and respected throughout the wrestling world. Ross is also a New York Times bestselling author, a BBQ guru, the host of his own podcast (The Ross Report), and can be read through his columns on Fox Sports as well as his work with both CBS Sports, AXS TV, and Britain's ITV.

Paul O'Brien is an award-winning filmmaker and bestselling author from Wexford, Ireland. His Blood Red Turns Dollar Green novels—a crime trilogy set in wrestling's territory days—have been bestsellers in Canada, Australia, Germany, Mexico, Spain, Italy, the United Kingdom, Ireland, and the United States. Paul is currently developing those novels for TV.

Vincent K. McMahon is the chairman and CEO of World Wrestling Entertainment, Inc. A third-generation sports entertainment promoter, he has built the WWE into the top wrestling organization in the world, including taking the company public in 1999.
Praise For…
---
"I realized very quickly at the beginning of my WWE career that if I was going to be successful at my craft, then one of the main components I needed was a conduit between myself and the global audience watching from home?that conduit was Jim Ross. I needed a trusted voice to make the audience at home feel the performance I was giving in the ring. Proud to say we reached our global audience in a very big way. "
—Dwayne "The Rock" Johnson, former WWE champion and Hollywood superstar

"Jim Ross is not only the greatest wrestling play-by-play man ever, he's the architect behind the greatest roster in WWE history. He's also a master storyteller and this book is the perfect forum for his more than forty years of tales from his time in the business. So put on your black Resistol and get ready for an amazing read that is anything but bowling shoe ugly!"
—Chris Jericho, former WWE champion and New York Times bestselling author

"[The] book is unique, introducing [JR] as a person to readers but also covering some of the most seminal moments in wrestling."
—Justin Barrasso, Sports Illustrated

"While Slobberknocker is not a traditional wrestling book by any means, with Ross having stepped into the ring under duress only on a couple of occasions, there are some incredible nuggets of wrestling history built into a book that covers so many years. WWE fans will certainly be interested in hearing about Ross' transition into the WWE."
—Tim Fiorvanti, ESPN.com

"For many wrestling fans, Jim Ross is the voice of a generation—bringing respectability, drama, humor and a dose of realism to WWE programming for more than a decade. It's those qualities that he brings to his new memoir Slobberknocker: My Life in Wrestling. The mix of tales from backstage and Ross' personal journey from humble beginnings to the top of his profession make this a wrestling memoir worth reading."
—Jay Reddick, Orlando Sentinel

"Slobberknocker delivers on what most fans will be expecting. . . . Working with co-writer Paul O'Brien (his initial collaborator, Scott Williams, died unexpectedly in 2016), he delivers one of the best-written wrestling memoirs in memory."
—Jon Langmead, SLAM!

"An earnestly written and mostly entertaining memoir tailor-made for fans already familiar with the ringside legend."
—Kirkus Reviews

"JR is a legend on and off the screen. He has been a driving force behind a big generation of wrestling and WWE fans and has helped grow one of the greatest media marketing forces in history, and that's just the tip of the iceberg, his personality and ability to connect to some of the most powerful entertainers of our generation is unparalleled. Any book from JR will be a must read."
—Mark Cuban

"My pal, Jim 'JR' Ross, stands as the powerful driving force that millions of wrestling fans around the world have come to rely upon for an entertaining attachment with the world of sports entertainment. JR's colorful presence with his ever-present, famous black cowboy hat makes his place at the microphone speak and spark, taking the wrestling experience to the top of the game. Let this enjoyable venture into JR's journey through a lifetime of fun and fascination stroll the highest of highs with his dedication to total WWE perfection around the world."
—Billy F. Gibbons, ZZ Top

"I've enjoyed observing JR's unique approach to everything he does, fueled by a great passion and love for OU and all its athletic teams, but particularly our football team. I remember seeing JR for the first time on the sideline and recognizing the iconic look with the black hat, and immediately knowing it was the famous wrestling world's JR. Getting to know him through the years, he's become a great friend and I've been so fortunate to hear the tremendous stories of his career and all of the interesting people he's met. I'm sure you'll be entertained by these stories and acquaintances just as much as I have. Boomer Sooner."
—Bob Stoops, head football coach, University of Oklahoma

"To be sure, his legendary career . . . provides tons of material for Ross to work with. However, the way he's able to tell stories with a flair for the narrative and more than a dash of humor is quite remarkable. . . . This has instantly become one of my favorite wrestling books, something I could easily see reading over and over again because it's such a fun and interesting read."
—Bulldog's Bookshelf

"I realized very quickly at the beginning of my WWE career that if I was going to be successful at my craft, then one of the main components I needed was a conduit between myself and the global audience watching from home?that conduit was Jim Ross. I needed a trusted voice to make the audience at home feel the performance I was giving in the ring. Proud to say we reached our global audience in a very big way. "
—Dwayne "The Rock" Johnson, former WWE champion and Hollywood superstar

"Jim Ross is not only the greatest wrestling play-by-play man ever, he's the architect behind the greatest roster in WWE history. He's also a master storyteller and this book is the perfect forum for his more than forty years of tales from his time in the business. So put on your black Resistol and get ready for an amazing read that is anything but bowling shoe ugly!"
—Chris Jericho, former WWE champion and New York Times bestselling author

"[The] book is unique, introducing [JR] as a person to readers but also covering some of the most seminal moments in wrestling."
—Justin Barrasso, Sports Illustrated

"While Slobberknocker is not a traditional wrestling book by any means, with Ross having stepped into the ring under duress only on a couple of occasions, there are some incredible nuggets of wrestling history built into a book that covers so many years. WWE fans will certainly be interested in hearing about Ross' transition into the WWE."
—Tim Fiorvanti, ESPN.com

"For many wrestling fans, Jim Ross is the voice of a generation—bringing respectability, drama, humor and a dose of realism to WWE programming for more than a decade. It's those qualities that he brings to his new memoir Slobberknocker: My Life in Wrestling. The mix of tales from backstage and Ross' personal journey from humble beginnings to the top of his profession make this a wrestling memoir worth reading."
—Jay Reddick, Orlando Sentinel

"Slobberknocker delivers on what most fans will be expecting. . . . Working with co-writer Paul O'Brien (his initial collaborator, Scott Williams, died unexpectedly in 2016), he delivers one of the best-written wrestling memoirs in memory."
—Jon Langmead, SLAM!

"An earnestly written and mostly entertaining memoir tailor-made for fans already familiar with the ringside legend."
—Kirkus Reviews

"JR is a legend on and off the screen. He has been a driving force behind a big generation of wrestling and WWE fans and has helped grow one of the greatest media marketing forces in history, and that's just the tip of the iceberg, his personality and ability to connect to some of the most powerful entertainers of our generation is unparalleled. Any book from JR will be a must read."
—Mark Cuban

"My pal, Jim 'JR' Ross, stands as the powerful driving force that millions of wrestling fans around the world have come to rely upon for an entertaining attachment with the world of sports entertainment. JR's colorful presence with his ever-present, famous black cowboy hat makes his place at the microphone speak and spark, taking the wrestling experience to the top of the game. Let this enjoyable venture into JR's journey through a lifetime of fun and fascination stroll the highest of highs with his dedication to total WWE perfection around the world."
—Billy F. Gibbons, ZZ Top

"I've enjoyed observing JR's unique approach to everything he does, fueled by a great passion and love for OU and all its athletic teams, but particularly our football team. I remember seeing JR for the first time on the sideline and recognizing the iconic look with the black hat, and immediately knowing it was the famous wrestling world's JR. Getting to know him through the years, he's become a great friend and I've been so fortunate to hear the tremendous stories of his career and all of the interesting people he's met. I'm sure you'll be entertained by these stories and acquaintances just as much as I have. Boomer Sooner."
—Bob Stoops, head football coach, University of Oklahoma

"To be sure, his legendary career . . . provides tons of material for Ross to work with. However, the way he's able to tell stories with a flair for the narrative and more than a dash of humor is quite remarkable. . . . This has instantly become one of my favorite wrestling books, something I could easily see reading over and over again because it's such a fun and interesting read."
—Bulldog's Bookshelf