A Good Time for the Truth: Race in Minnesota (Paperback)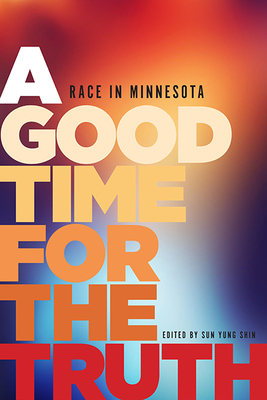 $18.95
Usually Ships in 1-5 Days
Description
---
In this provocative book, sixteen of Minnesota's best writers provide a range of perspectives on what it is like to live as a person of color in Minnesota. They give readers a splendid gift: the gift of touching another human being's inner reality, behind masks and veils and politeness. They bring us generously into experiences that we must understand if we are to come together in real relationships.

Minnesota communities struggle with some of the nation's worst racial disparities. As its authors confront and consider the realities that lie beneath the numbers, this book provides an important tool to those who want to be part of closing those gaps.

With contributions by:

Taiyon J. Coleman, Heid E. Erdrich, Venessa Fuentes, Shannon Gibney, David Grant, Carolyn Holbrook, IBe, Andrea Jenkins, Robert Karimi, JaeRan Kim, Sherry Quan Lee, David Mura, Bao Phi, Rodrigo Sanchez-Chavarria, Diane Wilson, and Kao Kalia Yang.
About the Author
---
Sun Yung Shin is the author of a book of prose Unbearable Splendor, two books of poetry Rough, and Savage and Skirt Full of Black, a co-editor of Outsiders Within: Writing on Transracial Adoption, and author of children s book Cooper s Lesson."