Salt and Honey: Jewish Teens on Feminism, Creativity, and Tradition (Paperback)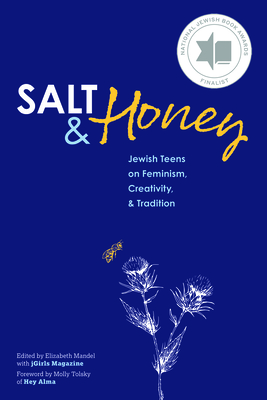 $16.95

In stock with our warehouse--usually ships within 1-7 days. May or may not be in stock at Room.
Description
---
NATIONAL JEWISH BOOK AWARD FINALIST
"Raw, vibrant, and full of love" --Kirkus Reviews
"A moving work that encourages solidarity . . . reflect(s)on race, gender, family, religious practice, and culture" --The Jewish Book Council
In 78 vibrant works by 62 gifted contributors, Jewish girls, young women, and nonbinary teens voice their celebrations and challenges, their anger and their eagerness in essays, poetry, and visual art.
And their themes are universal, touching on childhood, spirituality, sexuality, race, family, friends, and the world around us.
We are writers, editors, photographers, and artists. We are multiethnic, multiracial, and multifaceted. We are nourished by the sweet honey and harsh salt of our lives.
Although we are often misunderstood, we find strength within ourselves and our communities. This book elevates our stories as we honor the past, explore the present, and look toward the future. Through poetry, fiction, essays, and art, we make our voices heard.

"Within these pages is a representation of the Jewish community at its best: a diversity of voices and experiences; a rigorous commitment to challenging the status quo; creativity; humor and heartbreak; suffering and joy. That such an invigorating and affirming work was produced by the teens of jGirls Magazine is proof that they've learned a very important lesson early in life: nobody can tell your story but you." --Molly Tolsky, from the Foreword to Salt & Honey.

The award-winning Salt & Honey and was created by a team of writers and artists brought
together as part of jGirls Magazine, including editors Elizabeth Mandel, Emanuelle Sippy, Maya Savin Miller, and Michele
Lent Hirsch.
Includes works by: Aliza Abusch-Magder; Lauren Alexander; Gertie Angel; Yael Beer; Alex Berman; Alyx Bernstein; Leah Bogatie; Isabella Brown; Aydia Caplan; Whitney Cohen; Emilia Cooper; Tesaneyah Dan; Denae; Alexa Druyanoff; Emily Duckworth; Elena Eisenstadt; Tali Feen; Abigail Fisher; Leah Fleischer; Lily Gardner; Abigael Good; Sequoia Hack; Madison Hahamy; Samara Haynes; Ahava Helfenbaum; Dalia Heller; Sascha Hochman; Audrey Honig; Alexa Hulse; Liel Huppert; Noa Kalfus; Alma Kastan; Rachel Kaufman; Maya Keren; Naomi Kitchen; Gavi Klein; Jamie Klinger; Emily Knopf; Aidyn Levin; Sonja Lippmann; Shoshana Maniscalco; Liora Meyer; Maya Savin Miller; Becca Norman; Juliet Norman; Dina Ocken; Zoe Oppenheimer; Lily Pazner; Annie Poole; Ofek Preis; Maya Rabinowitz; Emma Rosman; Artie Ross; Sydney Schulman; Eliana Shapere; Emanuelle Sippy; Michal Spanjer; Frankie Vega; Molly Voit; Abigail Winograd; Sarah Young; Makeda Zabot-Hall.

The included Reader's Guide by teen educator and award-winning author Michelle Shapiro Abraham, RJE makes this an outstanding resource for book groups and for teen programming in a variety of contexts.