Candelaria: A Novel (Hardcover)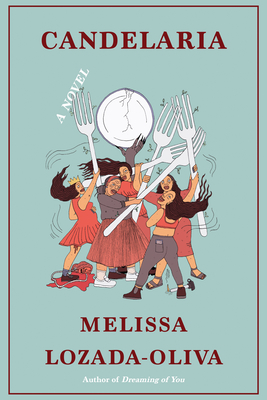 $28.00

In stock with our warehouse--usually ships within 1-7 days. May or may not be in stock at Room.
Staff Reviews
---
I do NOT read books like this. The undead?! Cults??! Scary gross stuff?!! CANNIBALISM?! ZOMBIE APOCOLYPSE?! No, ma'am. I had no idea what Candelaria was about but, knowing Melissa Lozada-Oliva's brain from the internet and her previous work, I knew it'd be weird and fun -- so, I gave it a try. Ahem. I took it everywhere with me for three days. I ignored my partner for three days. I gasped and shrieked aloud. It was so much fun. I love Melissa's weird brain, I trust her as a storyteller and her innovation keeps me at the edge of my seat. Her unflinching and unashamed characters read so true to me. Melissa's humor and cynicism really speak for a generation I identify with. 
I really hope this book has a good life. Candelaria seems like a perfect book for fans of Nightbitch and Patricia Wants to Cuddle. And, like, a third cousin of Manhunt by Felker-Martin. I will read whatever Lozada-Oliva writes next and, for my own selfish sake, I hope there's something new soon.
— Fawzy
Description
---
"Candelaria is a masterpiece from a writer destined to produce many." —Jamie Loftus, author of Raw Dog

"Candelaria sticks to your soul and leaves you seeing the world and the people in it a bit differently." —Xochitl Gonzalez, Pulitzer Prize Finalist and author of Olga Dies Dreaming

Julia Alvarez's How the Garcia Girls Lost Their Accents meets Cormac McCarthy's The Road

Your granddaughters are lost, Candelaria. Bianca, the brainy archaeologist, had to forfeit her life's work in Guatemala after her advisor seduced and deserted her. Paola, missing for over a decade, resurfaces in Boston as a brainwashed wellness cultist named Zoe. And Candy, the youngest, is a recovering addict who finds herself pregnant by a man she's not even sure ever existed. None of this concerns you of course, until a cataclysmic earthquake hits Boston. Now you must traverse the crumbling city to reach the Watertown Mall Old Country Buffet—for a reason you still cannot disclose—battling strange entities and your own strange past to save your granddaughters and possibly the world.

Author of Dreaming of You Melissa Lozada-Oliva delivers an unsettling, raucous debut novel written with tongue-in-cheek humor and sharp cultural criticism that unearths one troubled family's legacy, feasting on diasporic identity politics and examining the limits of bodily autonomy and the dangers of wanting to belong at any cost.

A sweeping, mystical novel following three generations of women as they grapple with muddled pasts and predetermined futures, Candelaria is a story of love that eats us alive.
About the Author
---
Melissa Lozada-Oliva is the child of Guatemalan and Colombian immigrants and the author of Dreaming of You and peluda. Her work has been featured in NPR, Vogue, Harper's Bazaar, PAPER, Armani Beauty, and more. She is a member of the band Meli and the Specs. She holds an MFA in poetry from NYU and lives in New York City.
Praise For…
---
"Equal parts poignant, hilarious and horrific, this novel is a macabre feast for the senses—try a taste if you dare. 
—Katherine Ouellette, WBUR

"Bonkers . . . the author's funhouse visions are hard to turn away from."
—Publishers Weekly

"Melissa can turn a person into a hero, a cryptid, and someone closer than family in the space of a page. She lives in a world that's just as flawed and messy and gross as ours, but sees the beautiful, dark magic that the rest of us keep missing — probably because she's harnessed it so perfectly here. Candelaria is a masterpiece from a writer destined to produce many."
—Jamie Loftus, author of Raw Dog

"Candelaria is a thrilling ride. Melissa Lozada-Oliva captures with deft humor the lives of a matriarch and her brood of daughters and granddaughters as they survive addiction, patriarchy, capitalism, natural disasters, and zombies. Reading Lozada-Oliva's work is like attending a family reunion, one where you hang in the backyard smoking a joint with your favorite cousin. Melissa is a smart, compassionate, and hilarious writer. I will read anything she writes." 
—Alejandro Varela, author of the 2022 National Book Award finalist The Town of Babylon

"Electric from the first page, Lozada-Oliva's story of high-octane family dynamics and transformation is swiftly paced and deliciously vivid. Sparkling with character and dialogue, Candelaria is not only a novel, but a multisensory experience."
—Amanda Montell, author of Cultish and Wordslut

"'What's the point of lying at the end of the world?' In the cataclysms holding the center of her wild and exuberant novel, Melissa Lozada-Oliva shows our willingness to still keep big secrets and hide hard truths, our everyday fears always greater than the chaos of a world on the brink. Candelaria goes for broke and why not? 'Names erode,' we are warned. But good stories? Never."  
—Manuel Muñoz, author of The Consequences

"Melissa takes us on an intense journey about the end of days, showing us that family might be the only thing that will save us, all while throwing in some Stephen King-level horror that'll make your heart race. This ride's a wild one – and you're gonna wanna be on it."
—Oz Rodriguez, director of Vampires Vs. the Bronx

"Buckle up—Candelaria is a literary ride unlike any other. A wild journey through generational trauma, untold truths, sibling rivalry and intimacy via backroads lined with cinema, cult fitness and the supernatural. Fear not, though the landscape Lozada-Oliva creates is utterly original and chaotic at times, she is a masterful guide whom I would follow anywhere. Heartbreaking, hilarious and absurd in the very best way, Candelaria sticks to your soul and leaves you seeing the world and the people in it a bit differently."
—Xochitl Gonzalez, Pulitzer Prize Finalist and author of Olga Dies Dreaming