Which Side Are You On: A Novel (Hardcover)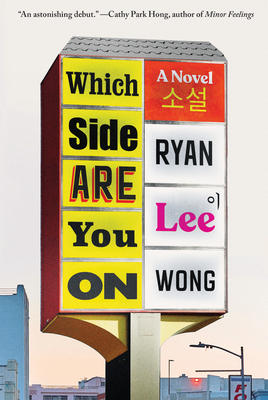 $24.00
This item is out of stock with our warehouse. Some recently published books may be in stock @ Room. Email to check.
October 2022 Indie Next List
---
"An astounding novel that brings forth a tumultuous time between Asian and Black communities and the tensions between the two. Which Side Are You On underlines that the present is history in the making — and there's still a long way to go."
— Thu Doan, East Bay Booksellers, Oakland, CA
Description
---
Finalist for the PEN/Hemingway Award for Debut Novel

How can we live with integrity and pleasure in this world of police brutality and racism? An Asian American activist is challenged by his mother to face this question in this powerful—and funny—debut novel of generational change, a mother's secret, and an activist's coming-of-age

Twenty-one-year-old Reed is fed up. Angry about the killing of a Black man by an Asian American NYPD officer, he wants to drop out of college and devote himself to the Black Lives Matter movement. But would that truly bring him closer to the moral life he seeks?

In a series of intimate, charged conversations, his mother—once the leader of a Korean-Black coalition—demands that he rethink his outrage, and along with it, what it means to be an organizer, a student, an ally, an American, and a son. As Reed zips around his hometown of Los Angeles with his mother, searching and questioning, he faces a revelation that will change everything.

Inspired by his family's roots in activism, Ryan Lee Wong offers an extraordinary debut novel for readers of Anthony Veasna So, Rachel Kushner, and Michelle Zauner: a book that is as humorous as it is profound, a celebration of seeking a life that is both virtuous and fun, an ode to mothering and being mothered.
About the Author
---
RYAN LEE WONG was born and raised in Los Angeles, lived for two years at Ancestral Heart Zen Temple, and currently lives in Brooklyn, where he is the administrative director of Brooklyn Zen Center. Previously, he served as program director for the Asian American Writers' Workshop and managing director of Kundiman. He has organized exhibitions and written extensively on the Asian American movements of the 1970s. He holds an MFA in fiction from Rutgers University–Newark. Which Side Are You On is his first book.
Praise For…
---
Finalist for the PEN/Hemingway Award for Debut Novel

Named a Best Book by NPR, Bustle, Debutiful, and more
Library Journal, A Most Anticipated Fall Debut
The Millions, A Most Anticipated Book of the Year

"Wong's main characters are wonderfully crafted and deeply human in their fallibility . . . Wong blends the backdrop of L.A. artfully and meaningfully into the novel . . . At its best, which it frequently is, Which Side Are You On bears the distinction of telling a story for and of our times, asking difficult, but necessary, questions of its narrator and readers alongside him." —Jung Yun, The Washington Post

"A thought-provoking and poignant coming-of-age story." —Time

"Ryan Lee Wong has taken on the challenge of writing a self-aware, critical version of the protest novel with his debut Which Side Are You On—a slim work that is literally about protests and activism, that manages to interrogate both the rigidity of movements and the complacency that can find its way into them . . . Which Side Are You On takes racial justice and the need for activism seriously [and] charts how the real work of activism comes not from merely announcing what you stand for and against, but from empathy grounded in understanding how much you still have to learn." —Kristen Martin, The New Republic

"A sharply observed story of an earnest Asian American activist considering dropping out of college to dedicate himself to organizing . . . the story, both moving and funny, is sure to speak powerfully to the many who struggle to find hope and joy in an unjust world." —Lisa Wong Macabasco, Vogue

"A blistering send-up of youthful pretension and pseudo-activism . . . Wong's pace is quick and dialogue driven and actually in the service of a moving coming-of-age tale . . . An assured debut novel that gets at the heart of why saying the right thing—hell, even doing the right thing—isn't always enough." —J. Howard Rosier, Vulture

"This book! In Ryan Lee Wong's hard-hitting and witty novel, two generations of Asian American political activists negotiate their relationships with movements, history, L.A., and one another. Wong handles his narrator's earnestness with understated brilliance—especially when he skewers that very same sincerity. Sure to spark conversations." —YZ Chin, Entertainment Weekly

"Told with the witty brio of our narrator's youth, Which Side Are You On marks the arrival of an electric new voice." —Adrienne Westenfeld, Esquire

"Wong handles the characterization of Reed perfectly to make the novel fun to read. He puts Reed's social justice jargon-laden thoughts in dialogue, never in narration. Other characters challenge Reed's ideas and make fun of his vocabulary. This introduces playfulness to a story with heavy themes, and allows Reed to grow toward an authentic moment of transformation as he realizes there usually isn't just one right side to be on." —Jenny Shank, Star Tribune (Minneapolis)

"Which Side Are You On is a swift, funny, polemical primer on Los Angeles, Asian American history, and cross-racial organizing." —Esther Kim, The Nation

"Extremely important . . . A great novel about what it means to be an activist, what it means to be a son, what it means to be an American . . . This is the beginning of a stellar career." —WAMC The Roundtable

"It's heartbreaking, but at times hilarious. The book knocks down stereotypes given to a community by the media and invites readers in with open arms. It's a book America has needed for a very long time." —Debutiful

"Using electric dialogue, Wong gives the narrative its forward momentum, and expands its scope across time and generations by raising questions of morality and social responsibility in the face of injustice and privilege and by examining historical moments that speak to the importance of cross-racial solidarity." —Bareerah Ghani, Electric Literature

"What does it look like to devote your life to activism? How can you be a good, authentic ally to others? How can you lead a happy life when your life's work is so wrapped up in trauma and systemic oppression? These are some of the big and timely questions that carry us through Ryan Lee Wong's debut . . .You'll feel like you're right there in Los Angeles, a fly on the wall of these important conversations. But this is not a strictly somber novel by any means! It's a wonderful balancing act, tackling serious topics with humor and heart." —Katie Yee, A Literary Hub Most Anticipated Book of the Year

"Full of vibrant characters, this punchy story [...] offers no simple answers to ongoing racial conflicts. The portrait of a sanctimonious young man who wakes up to the reality of generational trauma and well-meaning failure is spot-on. Truly, a book for the contemporary moment. Ryan Lee Wong's dynamite debut novel weaves timely issues of racism and protest—and much nuance—into a pacy, funny story of generational differences and idealism versus cynicism." —Shelf Awareness

"A profound and nuanced bildungsroman . . . This daring and generous work is sure to spark difficult but necessary conversations." —Publishers Weekly (starred review)

"The novel feels like an updated, more socially aware Less Than Zero . . . A promising coming-of-(political)-age debut." —Kirkus Reviews

"Ryan Lee Wong has managed to write a superb, beautifully crafted political novel free of didacticism and full of humor, pathos, and insight. The first half had me laughing out loud; the second half left me terrified, discomfited, and self-reflective. In his quest to find a golden age of interracial solidarity, Reed, the main protagonist, discovers through his parents' surprising history and wisdom, valuable political lessons about choices, sacrifice, friendship, family, and the enormous challenge of building genuine alliances. And for anyone who still believes identities are discrete, fixed, one-dimensional, and easily legible, this book is the cure." —Robin D. G. Kelley, author of Freedom Dreams: The Black Radical Imagination

"Blasting easily woke platitudes, this honest, hilarious, and deeply healing novel gets at the heartbreaking core of building connections between families and friends, and solidarities within and between racial communities. For years I've been waiting for a novel like Ryan Lee Wong's Which Side Are You On, and I urge everyone to read it. It is an astonishing debut." —Cathy Park Hong, author of Minor Feelings

"Sharp, fast-moving, and often hilarious, Which Side Are You On is a must-read: a story of Asian American relationships—familial, intergenerational, and otherwise—through the lens of Black-Asian histories, community organizing, and radical politics." —Lisa Ko, author of The Leavers

"Salty, funny, angry, and heartbreaking, Which Side Are You On synthesizes the struggles of a family that has been working and hoping for a better world for two, maybe three, generations, and in the process, renews our sense of the histories involved—American history, Korean American history, Black history, Los Angeles history. This is a stunning debut, but also a novel I didn't know I was waiting for." —Alexander Chee, author of How to Write an Autobiographical Novel